Nebraska Humane Society: A Campaign of Hope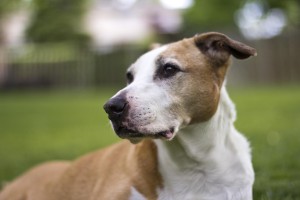 I've always loved dogs. So when the Nebraska Humane Society became my first client project at OBI, I was thrilled and a bit emotional—I had just said good-bye to my beloved dog of 15 years, Zoe. I adopted Zoe from the Homeless Animal Rescue Team of Northern Virginia when she was only 6 months old. She loved squirrels, peanut butter and naps in the sunshine. She also ate an entire box of calcium chocolate chews, foil wrappers and all… It was good for my soul to dive right into the NHS project and work side-by-side with all the amazing dogs and volunteers at the shelter.
I learned so much. For example, NHS performs 50 to 60 surgeries daily. Yes, daily. Then there's the Molly Project, which focuses on rehabilitating unruly, aggressive and fearful dogs who are usually considered unadoptable and untreatable. But it was the stories that melted my heart. Stories of abuse and surrender; stories of hope and second chances; stories like Baxter.
A 14-year-old Pomeranian, Baxter inspired our creative team in the development of the NHS campaign theme, Help becomes hope. Baxter's story is one of immense hope. Found barely clinging to life due to his abusive owner, the amazing caregivers at NHS rescued him and nursed him out of his coma. They gave him a second chance, just as they do for 30,000 animals that enter their shelter each year. Baxter became the lovable star of our re-branding campaign and is featured in a television commercial, an online video and countless social media posts together with Shelby, a young English setter who was rescued by NHS but never claimed by her owner.
NHS had never undertaken a re-branding campaign. They hardly ever advertised. But with a lot of work and a little faith, we gave them a campaign both they and we are proud of.
What working with NHS has taught me:
There are extremely passionate, kind souls in the world. Volunteers who wake up at 5:00 am, rain, snow or shine, because a four-legged friend is counting on a walk around the block. We need more of these people.
A painful story doesn't need to glorify the pain. Making people cry doesn't always garner more donations. Hope is a better answer.
Have patience and determination. Earn your client's trust slowly, and they will follow your lead.
Be brave. The reward is priceless.