From Creating Killer Websites to Decoding Google Analytics, OBI's Web Team Has Fun Working Hard
Today, digital marketing isn't everything but it sure is a lot. Winning for clients requires a multi-talented web team with skills that span platforms and cross functionalities. At OBI Creative, our web team specializes in interactive interface development to app design. They create websites, MIVA e-commerce solutions, apps and more in not only open source CMS platforms including Drupal and WordPress, but custom PHP development as well. In addition to English, they're fluent in HTML5, CSS, JavaScript, PHP, SQL, Google Analytics and shell script.
Whether you need them for a custom, interactive game that will blow the roof off your next trade show exhibit or for a responsive website that showcases your products and services to people on desktops, laptops, smartphones and even outdated, aging tablets, the OBI web team is ready to rock for you.
Meet the OBI Creative Web Team
Our web team lives and works primarily out of Des Moines, Iowa, where they have built a 10+ year history breaking ground on innovative, forward-thinking technology projects together. Small, but mighty, here are the guys who love modernizing websites and resolving technical improbabilities for our clients and their thoughts on a few of the more interesting projects they've been fortunate to work on.
Sean Conlin, Director of Digital
Jason Northrup, Senior Developer/System Administrator
David Svoboda, Senior Web Developer
Patrick Snyder, Designer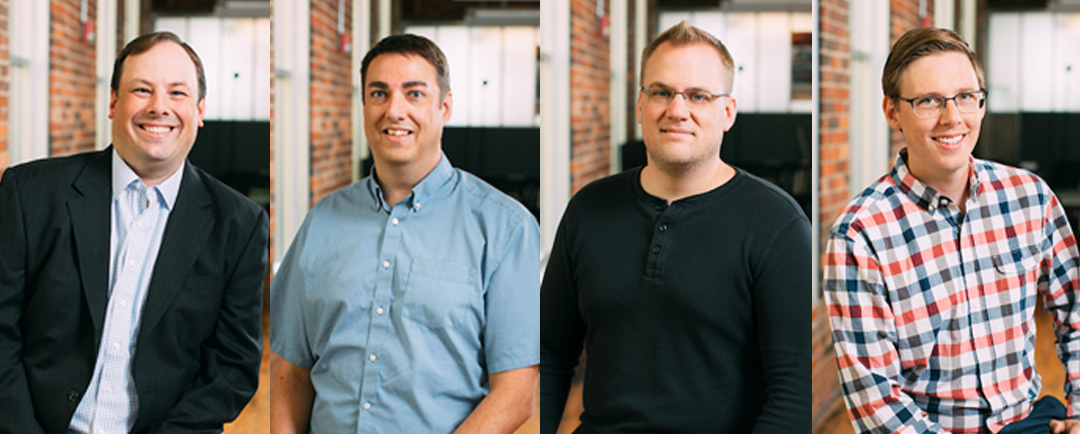 Let's start off with something fun. If you could have one superpower, what would it be?
Jason: "Super speed, so I could get home to spend time with my family of five in record time, and make spontaneous trips whenever, and wherever I'd like. My top destination would be my home state of Vermont—the land of Ben & Jerry's Ice Cream, Cabot Cheese and maple syrup."
David: "I'm a fan of Doctor Who so being the Doctor would be amazing. One of my favorite quotes from the series is, 'This is one corner of one country, in one continent, on one planet that's a corner of a galaxy that's in a corner of a universe that is forever growing and shrinking and creating and destroying and never remaining the same for a single millisecond. And there is so much, so much to see.'"
What is one of the more technically challenging, but rewarding, projects you've worked on for a client?
David: "We've made some pretty interesting applications to use at trade shows including interactive multiplayer games and lead generation applications that work offline.
One huge technical obstacle we faced over and over was the hit-or-miss connectivity at a large trade show. Wifi hotspots at booths can be cost-prohibitive, so we wanted to make sure that the applications we create for our clients work for them privately, or for their guests. By creating our own hotspot applications that allow users to connect to a local network, they can gain information from the booth, or interact with others at the show in the booth. We utilize local storage technologies to ensure that we can capture data, and sync it with a repository in the cloud when available. That was a fun couple of months making sure it was foolproof."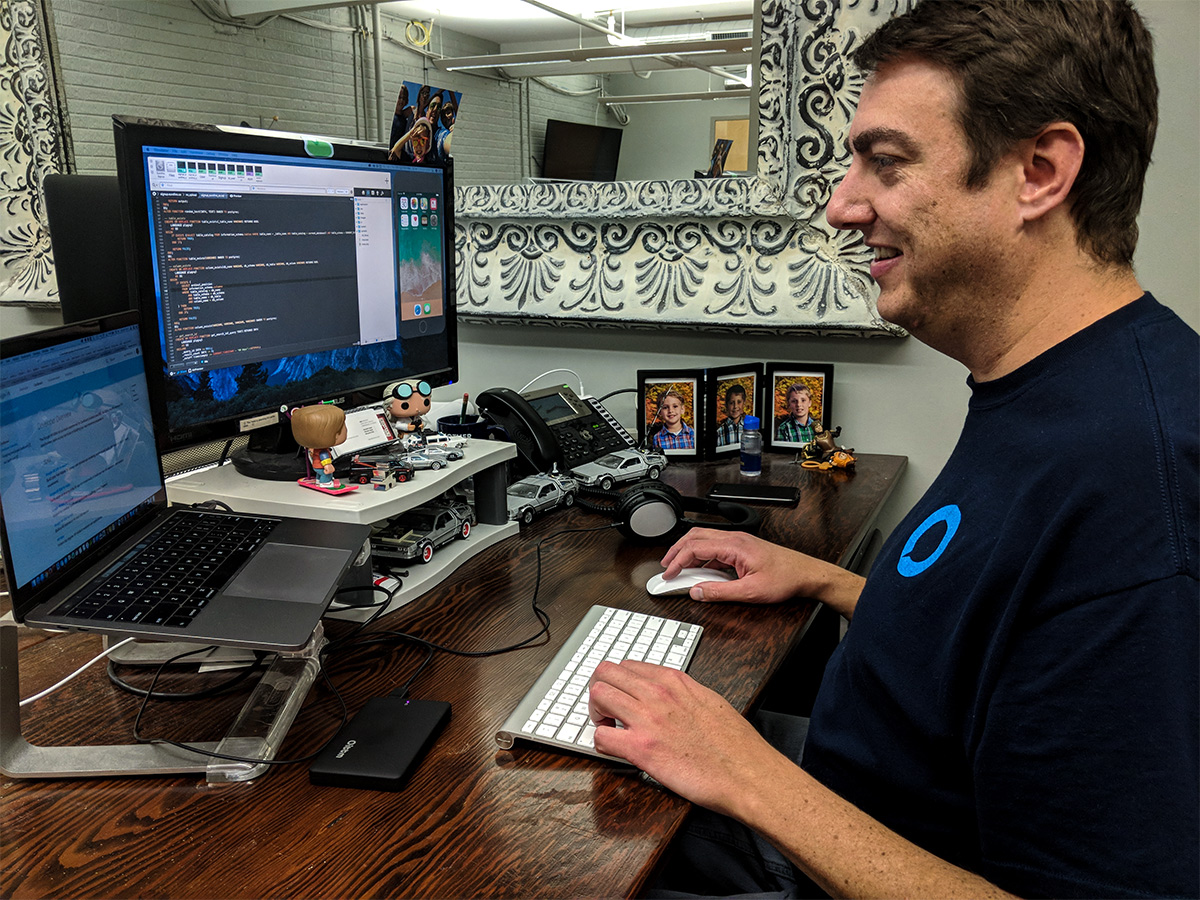 What do you enjoy about working in web design and development?
Jason: "The joy of web development is in transforming data into a more user-friendly presentation that they can interact with. Allowing site visitors to engage with tools such as meeting space scheduling, location locators and product catalogs, all without having to think about the data, or the transformation of that data that goes on behind the scenes excites me."
David: "Coming from a design background, I love making brands stand out online visually, and as I've evolved into programming and developing, that love has evolved into enjoying taking someone else's vision and making it a reality."
Patrick: "I love taking an old site, tearing the whole thing apart and creating something new and better."
What unique skills or technical experience do you enjoy applying on projects?
Jason: "Quite often in the tech industry, employees tend to have a single focus, whereas I have a mixed background that allows me to work across technical disciplines, taking on both development needs, as well as server administration. I'm able to think differently about the projects we take on and I think that benefits clients. Implementing the most immediately obvious solution oftentimes does not produce the best solution or even the most sensible one, whereas taking time to look at the problem from different perspectives can reveal simpler solutions that produce better results."
David: "I pay close attention to content and ensuring it's accessible for any device, never forgetting where we as an industry have come from, and working to make things usable for people who may not have the latest smartphone and for people who may still be using legacy browsers and technology, or those on slower connections."
Patrick: "One of my strengths is empathy. Understanding the user leads to solving their problem and building their trust with the brand."
Need an app for an upcoming trade show or a website that shows off your skills and services? Call OBI Creative today!