Tired of Lackluster Results? Here's How to Get More ROI on Your Marketing Spend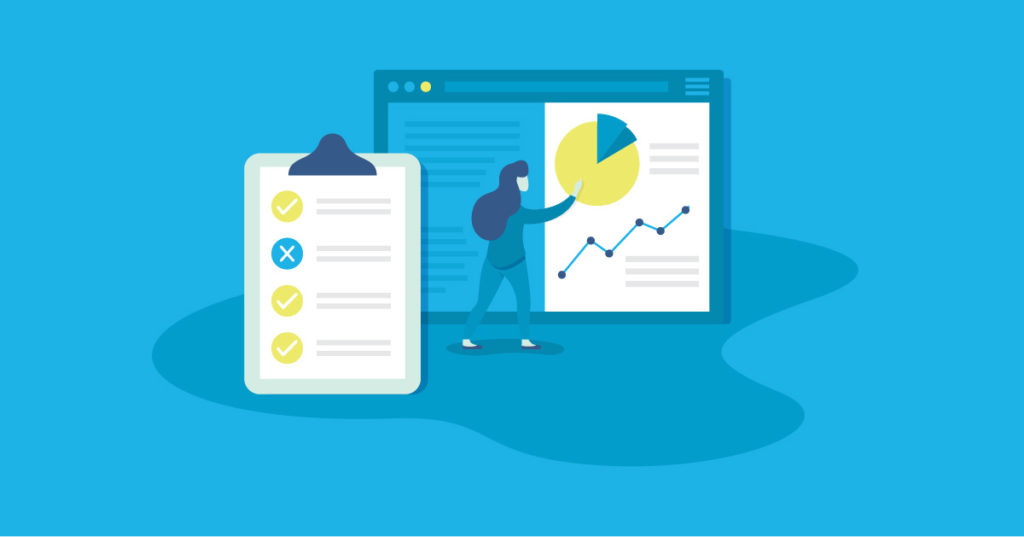 Marketers have more data available at their fingertips than ever before. Yet, marketing efforts and, in particular, advertising campaigns still seem to mystify many.
For example,

70.8% of small business owners do their marketing in house, yet they're much less satisfied with their results than those who outsource marketing efforts.
From small business owners to CMOs, success in traditional, digital and social media advertising feels either like an elusive combination of magic and data or a frustrating dance with sales and leadership. With marketing budgets tied to bottom line results, it is as pressing as it ever has been to show the ROI of every marketing effort, and that can be difficult when you don't know how to deliver results.
There are only two options in this high-pressure environment — win or go home. Experience has taught us that success hinges on two critical elements:
Creating marketing campaigns with measurable objectives that deliver bottom-line results.
Putting campaign tactics where they belong — after research and strategy.
Put Your Cart Where it Belongs
Remember that old saying, 'don't put the cart before the horse?' Many CMOs, small business owners and even advertising agencies do this when they jump straight into marketing deliverables without doing their research first.
If this sounds strange, think about the last time you created a sales brochure for an agent or for your company.
Did you verify that the brochure was a good fit for at least one of your customer personas?

Did the messaging and graphics conform to the strategy you set for that persona?

Do you have customer personas?

Do you have a marketing strategy?
Chances are good that you or someone you know has, for the sake of time or political pressure, rushed to put out a sales brochure, marketing flyer, landing page or even an entire marketing campaign without first doing your research. When that critical step is skipped, it's like building a house on sand; you have no idea when the tide will rush in and wash your house away. The same is true with skipping research; you have no way of knowing whether the time and money you are investing into that marketing initiative is going to deliver the results you want.
Successful Marketing Campaigns Start with Research
Research is the beating heart of OBI Creative because we know that marketing campaigns based on research consistently outperform campaigns based on hope.
Research-based marketing defines the successful career of our CEO, Mary Ann O'Brien. She's taught us to always ask whether you think your marketing strategy is based on hope or reality.
Research is the foundation for everything we do for clients and in today's post, we're taking you behind the curtain to reveal a bit of the way we create marketing magic for our clients.
Here are four principles that you can follow at your organization to put research at the heart of all you do and build a strong brand for your business.
Principle #1 — Build Your Brand From the Bottom Up
It turns out that pyramids are good for more than ancient wonders and iconic game shows. We use a pyramid to illustrate the marketing philosophy we follow to deliver brand awareness, social engagement, sales leads and other specific results our clients need.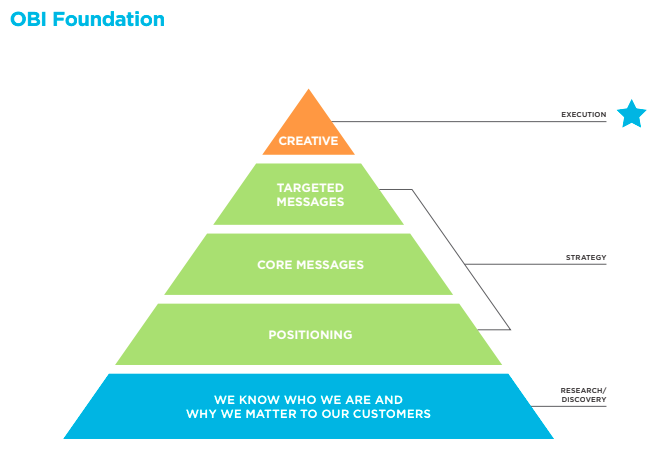 Weak brands are built from the top down. Use the marketing pyramid at your organization to build a strong foundation for your brand from the bottom up.
Principle #2 — Study Your Customer
If you want to squeeze more ROI from your next marketing campaign, study the experience your customers have with your company, from their perspective. Use brand and competitor analysis to reveal the good and bad in how your customers are interacting with your brand.
Look for practices that your company should to stop doing and customer-centric procedures and tactics to start to do more. Try some of the following to uncover the data that's driving your current sales results:
      

Qualitative and quantitative research

      

Audience segmentation

      

Database modeling and metrics

      

Client and customer insights

      

Mystery and secret shopping

      

Journey mapping

      

User interface/user experience research
Principle #3 — Study Yourself
Once you've studied your customers and, specifically, how they interact with your brand, it's important to compare that to what you think about your customers and how they interact with your brand.
"More than once, we've seen clients surprised to discover that what they think their customers appreciate about their products or services isn't what their customers actually value most," says Lana LeGrand, Director of Leadership and Operations for OBI Creative.
It's easy to get caught in an echo chamber when it comes to your marketing efforts and not see it.
Try some of the following to see how well you understand your customers and to what extent your operations are aligned with their needs and wants:
Employee surveys

Key stakeholder interviews

Gap identification between external and internal audiences
Principle #4 — Streamline Your Efforts with the Right Tools
There are only so many hours in a day and the right marketing tools can help you make the most of them. When complemented with robust research, these are just a few of the tools that you can use on an ongoing basis to align every marketing effort with a strategy that delights your customers and delivers stunning marketing results:
These certainly aren't all the tools out there and finding the best ones for your business can take time. If you find yourself overwhelmed at where to begin, give us a call! We'd love to learn more about your marketing challenges and opportunities.
OBI Creative's talented team of researchers and strategic communicators are ready to help you find out what makes your customers tick and to develop the strategic messaging and creative to captivate them with your brand.
---
Brand loyalty is dead.
Why is brand loyalty dying? Learn how to use the Law of Attraction to turn up and tune in the brands you manage.