How To Build an Effective Media Buying Strategy During a Crisis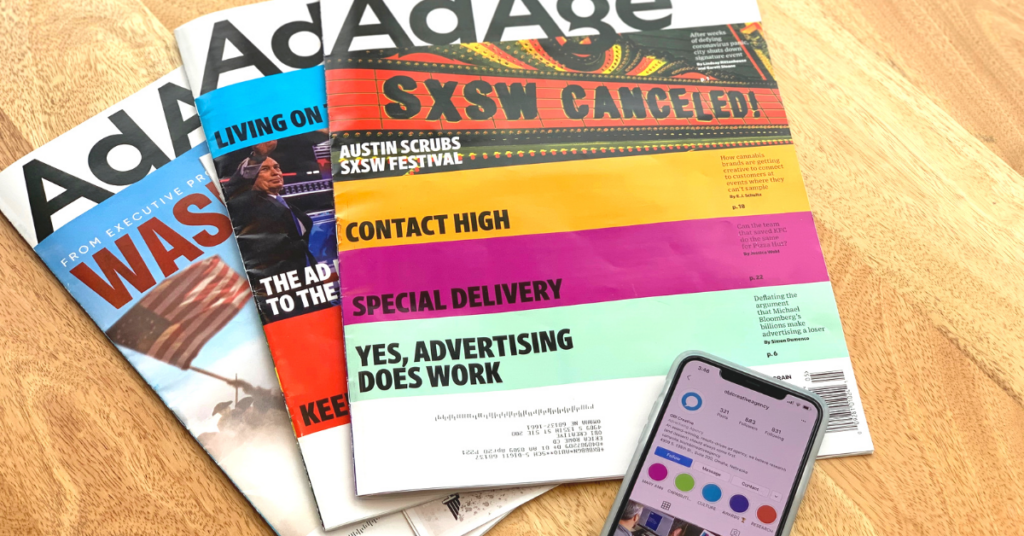 Media buying is one of the first things companies look to cut during a time of crisis.
That's a mistake.
Going dark might save you money now, but it will hurt your brand in the long run.
Communicating is one of the best things brands and businesses can do during crises. Ford Motor Company provides a perfect example of this.
What Brands Can Learn About Media Buying During the COVID-19 Crisis From Ford
Ford Motor Company had a national advertising campaign slated to run right now. Spots were bought and paid for. Placements were scheduled. Costs were mounting.
Ford could have pulled the plug on the campaign and put the money back into its coffers. Instead, the brand replaced the campaign with a hopeful message about how it's responding to the coronavirus crisis and how it's helping customers weather the coming financial storm the pandemic will leave in its wake.
Ford's smart media buying campaign does two things really well.
It informs customers about a car payment relief program Ford is offering.
It reminds consumers that Ford has weathered similar storms in the past.
Ad Age reported the spots, which were produced by Wieden+Kennedy New York, were put into process late last week, when Ford execs realized, "their normal marketing plans would no longer cut it as the coronavirus pandemic overtakes nearly every facet of American life." The article goes on to quote Matt VanDyke, director of U.S. marketing for Ford Motor Co. as saying, "It's important to be reassuring right now and not trying to say to people, 'Rush into your car dealership for a sales event."
Media buying is essentially about delivering the right message to the right people at the right time.

During a time of crisis, that message needs to respond to what your audiences are experiencing. Combat fear, not with radio silence, but with a megaphone. Like Ford, your media buying strategy should focus on three things:
Tell your audiences loud and clear what you are going to do for them right now.
Remind them why they can count on you to help them weather the storm.
Show them you will be there on the other side of this crisis, just as you were before it began.
Now, on to the basics of media buying.
How To Build an Effective Media Buying Strategy For Your Business
Media buying is part art and part science. Media planning and buying involves strategy, negotiation and placement of ads. The very best ads leverage content and context to capture the attention of the right audience. That, in a nutshell, is what media buyers aim to do.
Media buyers negotiate price and placement of the ad for the advertisers, but they do so much more than that. Media buyers are really content strategists who specialize in the paid media aspect of the PESO model.
AnnMarie Fereday, Director of Planning and Activation for OBI Creative, describes media buying as delivering the right message to the right person at the right time. When is that "right time"? According to AnnMarie it's when your audience is most likely to take action.
"The 'marketing rule of 7' states that a prospect needs to hear your message at least seven times before they are ready to take action," she says. "We carefully craft plans that include a combination of tactics aimed at attracting qualified audiences to our clients' brands, track their interaction (both online and offline) with our brand and determine from there what the next communication should be."
Sometimes that communication might be another ad. Or it could be an email with a relevant or valuable piece of content. Text messages and phone calls from sales representatives could also potentially be the next best touch point for engaging a prospect.
Even if you aren't a professional media buyer, like AnnMarie, you can build an effective media buying strategy for your business by executing a five-step process.
Media Buying and Planning Is a 5-Step Process
Digital media planning and buying is a process that helps businesses and brands connect with prospects and customers as they move through the four stages of the buyer journey.
The five steps of the media buying and planning process are as follows:
Identify target audiences through comprehensive market research.
Understand your audiences' interests.
Find your audiences when they are most receptive to your messages.
Deliver creative that motivates them to take action.
Test and retest your ad placements and creative to uncover what's working and what's not. Refine and improve.
An Example of Profitable Media Buying
Sometimes, the best way to grasp a concept, or in this case process, is with an example. An illustration of a client that OBI Creative took through this media buying process is Okoboji Tourism.
Okoboji is Iowa's #1 vacation destination. After working with its tourism bureau for three years to steadily increase tourist activity in Okoboji, our media buyers created a targeted campaign to attract visitors in the offseason. Our goal was to make Okoboji a year-round destination for shopping, dining and entertainment. Here's how we walked through each of the five steps to ensure success for our client.
Steps #1 and #2: Identify Your Target Audience and Determine Their Interests
First, we identified our audiences. We compiled a list of existing vacationers and appended third-party data to determine what attributes they had in common. This analysis uncovered three primary audiences.
Families
Empty nesters
Young professionals
Then, we identified their interests and made sure we knew which stage of the buying process they were in.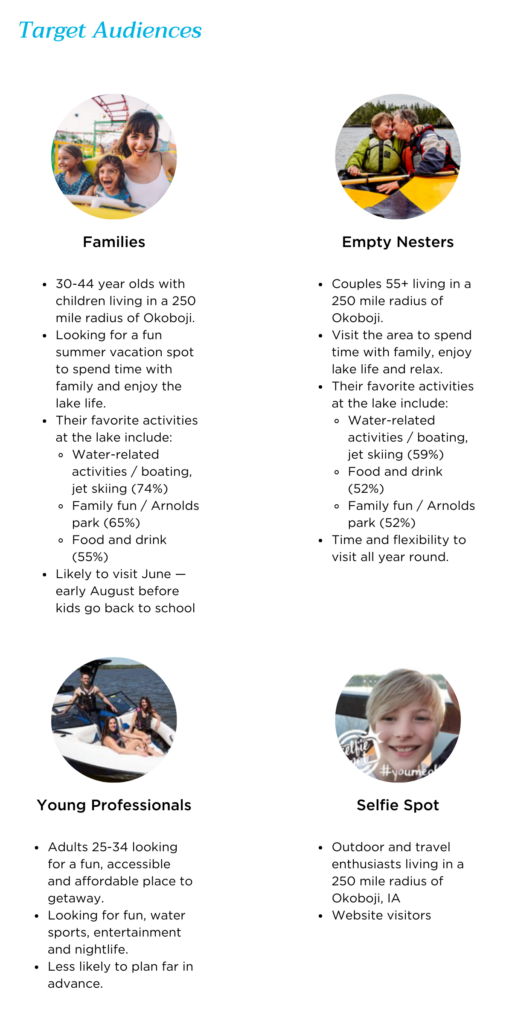 With that information informing our decisions, we were ready for step three — determining the intersection points for our target audiences.
Step #3: Find Your Audiences When They Are Most Receptive to Your Messages
"We found that all three of our target audiences could be intersected online with the right targeting parameters," says AnnMarie. "We used Facebook, Instagram, YouTube and Google Display Network to target prospective travelers and drive them to vacationokoboji.com where they could explore all that Okoboji has to offer and book their stay."
Retargeting ads were placed on the networks to re-engage visitors and keep Okoboji top of mind.
Step #4: Where Creative Comes in the Media Buying Process
It's easy to start with creative when you're planning a marketing campaign. Most people do. But experienced media buyers know creative is most effective when it comes after researching target audiences and identifying proper intersection points. That's exactly what OBI's media buying team did for Okoboji.
Ads targeting families showcased kids playing at the beach, riding the roller coaster and eating ice cream, while ads targeting empty nesters featured golf courses, bike trails and sunset cruises.
"We know ads are most effective when they target the right people with images that capture their imagination and motivate them to take a desired action," says AnnMarie. "Our ads, and videos, did that beautifully."
Step #5: Refine and Improve Your Campaign Placements
Digital campaigns are always evolving. Once you've bought your space and created your placements, your work is only half done. Refinement is key.
"Our team continuously optimizes campaign tactics based on what audiences are engaging and converting with at the highest rate," says AnnMarie. "We leverage conversion pixels and event tracking to collect data and model look-alike audiences of people who took action on our targeted websites. These ongoing adjustments are what make campaigns profitable and drive desirable results."
The Goal of Media Buying
Remember, the goal of media buying is to place your ads in front of your ideal audiences at the right time, place and context for them to be seen and acted upon. Tactics vary, but can include the following.
SEM
SEO
PPC
Social media ads
Digital display advertising (demographic and behavioral)
TV & over-the-top (OTT) placements in streaming services like Hulu and Netflix
Outdoor billboards/out-of-home ads/geospatial targeting
Radio and digital audio (e.g., Pandora, Spotify, iHeart, podcasts, etc.)
Print
Strategic partnerships
Which ones you use depends on what research reveals about where your ideal audiences consume on- and offline media.
As you follow up on leads and activate your sales team to close those leads into new customers, media buying and planning can help to keep your brand top of mind. Tactics that deliver value to the customer and educate them on what differentiates your brand will prove to be most successful during this stage. Those tactics may include:
Lead nurturing campaigns.
Point-of-sale placements.
Offers and promotions.
Email optimization and nurture campaigns.
CRM database management.
Finally, after you gain new customers, you continue to advertise to them.
Connecting with them again and again through communications and social media engagement as part of an overall inbound marketing strategy.
When you do these things consistently, you will achieve stunning results.
Our Okoboji campaign delivered more than 12 million impressions to prospective vacationers in a 250-mile radius of the Okoboji area. Facebook ads averaged a 2.35% click-through rate. That was well above the hospitality standard of 0.90%. Our Facebook conversion rate was also impressive, coming in at 8.45% compared to the industry average of 2.82%.
Most importantly, the tourism bureau continues to see an increase in vacationers to Okoboji.
These results aren't shocking to our media buying team because their tactics were grounded in a firm understanding of our target audiences' interests and intersection points.
"Carefully crafting audiences and customizing the message leads to a more efficient use of marketing spend, increased engagement and lower cost per conversion," says AnnMarie. "It's worth the time and money to set up your campaign targeting and creative at the start to eliminate wasted spend."
How Do You Apply These Steps During a Crisis?
The same way you would during times of peace and prosperity. You simply adjust your message and think critically about how intersection points with your audiences may have changed.
If your audiences are usually out and about, but a crisis brings life to a halt, causing them to spend more time in front of TVs, computers and streaming services than usual, adjust your media buying strategy to invest more heavily in those types of placements.
If your original strategy called for outdoor placements or live event sponsorships, shift those funds to digital retargeting or in-content ads on streaming services like Hulu and others.
A Final Word: Media Buying Tips To Take Away
We've covered a lot of ground here. Chances are good that your head is spinning. OBI Creative media buying expert AnnMarie has some parting advice to focus on as you plan your next campaign.
"It's easy to get paralyzed trying to figure out who to target. Start with a list of your existing customers or prospects and use them to find similar audiences on social media channels. This will give you a good place to start and a simple way to expand your reach.
"Use a combination of tactics to interact with your audiences at each stage of the buyer journey. Finally, set up conversion tracking to collect data on people who are interacting with your brand. Use that data to customize your campaign messages."
Is your head still swimming?
Don't waste your time treading water! Block out some time on your calendar and start the media buying and planning process.
If you get stuck, give our media buying team a call. We'll jump right in and help you craft a winning campaign.
---
Free Crisis Communications Toolkit
As the saying goes, failing to plan is planning to fail. That's never truer than in a global crisis. Your response depends on how well you've prepared. Are you ready to weather the storm? Download our free Crisis Communications Toolkit today.