Meet Darshana Panchal – OBI Account Service Intern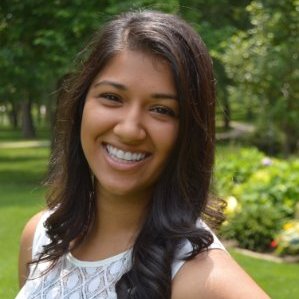 Welcome to Darshana Panchal who recently joined our OBI Creative team as an account service intern. Although an Illinois native, she claims a deep affinity for the Big O—she's a Westside High School alum and currently a senior at Creighton University majoring in finance and marketing. Impressive times two.
We sat down with her to learn more:
What's your favorite part of marketing?
The creativity and ideation process.
What are you most looking forward to during your internship?
Applying the knowledge learned in the classroom to real projects. I get so excited when something I studied comes up in a meeting or conversation. I feel smart when that happens.
What inspires you on a daily basis?
My friends. They give me support, believe in my talent and keep me working hard. They are just the best.
Favorite advertising campaign?
Currently, Hillshire Farm. Their songs are just so catchy.
Favorite quote?
"In any given moment we have two options: to step forward into growth or to step back into safety." – Abraham Maslow
Last book you read?
"Is Everyone Hanging Out Without Me?" by Mindy Kaling.
What do you want to be when you grow up?
CEO of an advertising agency. Or president of a university.
(hint, hint: she likes to be in charge)
So, how's the first week been?
On my first day, I was fortunate enough to attend a meeting with Habitat for Humanity of Omaha and witness a family close on a house.
What's the one thing you'd add to the OBI office?
An office fish named Brenda or Kyle.