Meet OBI Creative's Talented Team of Storytellers
Marketing buzzwords come and go. 'Trademarks' became 'brands' over time, as a company's identity came to encompass more than just its name and logo. Analytics morphed into big data, as the technology breakthroughs revolutionizing retail, commercial and industrial businesses affected marketing.
Within the field of strategic communications and marketing, functions that used to be siloed (like public relations, media relations, marketing and communication) are often now conjoined. Communicators have had to embrace new technologies and learn to work their craft on an ever-expanding host of platforms. Job titles and functions have morphed but the heart of every strategic communication or marketing effort has remained constant — all of it is still about telling a story.
At OBI Creative, our Strategic Communications Team embraces that reality. In fact, they've lived it for most of their professional lives.
From conducting SEO research to creating social media strategies to executing integrated communication campaigns, this well-balanced team of talented ladies keeps connecting with customers through storytelling at the heart of everything they do. They continually refine that skill with a thirst for knowledge and desire to add new capabilities to their content tool belts. Between them, they carry Google Adwords, Hubspot Inbound and Marketing Software certifications; are SEO and SEM pros; conduct countless pay-per-click campaigns and marketing automation efforts; and are consummate grammar geeks.
Get to Know the OBI Creative Strategic Communications Team!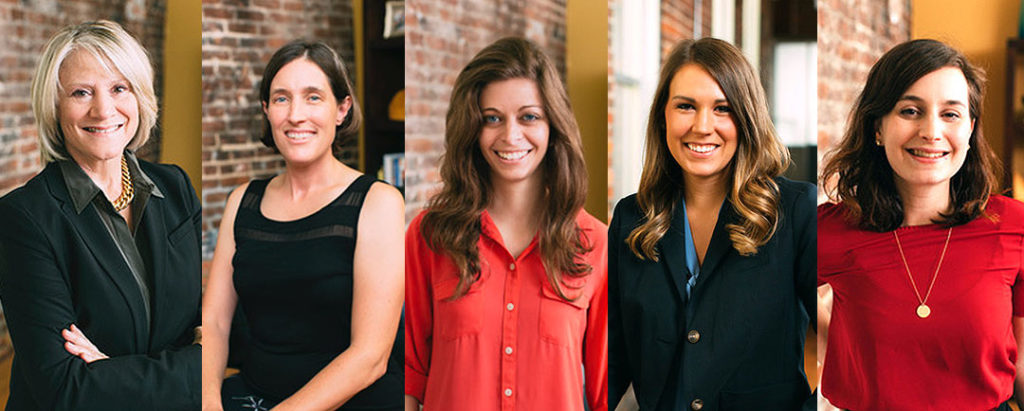 Ann | Director of Strategic Communications and Public Relations
Top Gallup Strength: Strategic
Katie | Digital Strategist
Top Gallup Strength: Discipline
Lindsay | Manager of Strategic Communications
Top Gallup Strength: Achiever
Nicole | Copywriter & Content Strategist
Top Gallup Strength: Context
Sara | PR & Social Media Coordinator
Top Gallup Strength: Ideation
Let's start out with what gets you going in the morning (besides a strong cup of coffee). What do you enjoy about working in PR / strategic communications?
Ann: "I began my career in television news as a reporter then anchor before moving into news management and eventually leadership at a PR agency. Gaining experience in such a variety of positions has given me an appreciation for the opportunities we have at OBI Creative to take our clients beyond traditional PR. Here, I apply my strategic thinking and communication strengths to build messaging plans that drive measurable and satisfying results for clients. On any given day I can move between strategy, messaging and new business development and I love it all almost as much as I love chocolate and a nice glass of wine."
Katie: "As I have grown in my career, I have naturally developed skills that fit my role as a Digital Strategist. I love numbers and science, but also enjoy exercising the creative side of my brain. Working in the Strategic Communications department and more specifically with content strategy and digital advertising, allows me to take the data we receive from the varying social platforms and other management tools to make informed decisions about what blog post to run, which images to use, or which target persona to tap into."
Lindsay: "I really enjoy figuring out what compels people to take action. Effective storytelling is what seems to do it the most."
Nicole: "For as long as I can remember I have enjoyed two things – discovering people's stories and writing. In time, I learned that I could do both through a career in advertising and communications. Having worked as a copywriter, business owner and now as a content strategist, I enjoy learning clients' needs and then crafting content that addresses those needs in a meaningful and measurable way. I also really enjoy working as part of a team. Each member of the group of talented professionals here at OBI Creative brings unique strengths, experiences and skills to every project we tackle, which leads to killer results for clients."
Sara: "PR and strategic communications come down to storytelling. With my background in journalism, I believe in telling everyone (and everything's) story."
All of us are looking for ways to make work easier and more enjoyable. What are some of your favorite PR, social media or strategic communication / planning tools for getting more out of your workday and your marketing spend?
Ann: "Tools are essential for keeping track of 'to dos' and data to improve strategy, messaging and execution, but they can't replace that knowing of your audience — what they want to hear and where and when they need to hear it. That's where our value as strategic communicators really shines."
Katie: "Our team uses a variety of tools to get more out of every minute of the day. Some of our favorites include the following:

Lindsay: "I've been a huge Hubspot fan for years, so joining OBI Creative, which is a Hubspot-certified agency, gives me ample opportunities to use Hubspot's tools and client-centric, inbound marketing approach. I've also used and continue to enjoy using Buffer, CoSchedule, Later, Sprout Social, Hootsuite, Rival IQ, and Simply Measured. All are great and available at different budgets."
Sara: "My favorite marketing tools skew toward the content creation side. I like Adobe Spark and Canva because they make creating graphics easier, which clients with lower budgets or quicker turnarounds appreciate."
When were you able to work on a project for a client that delivered the results they wanted and which you found both challenging and rewarding from a professional perspective?
Ann: "One that jumps to mind is the #QuietRiot project we brainstormed and brought to completion for Creighton University. It's a stellar example of how to use a strategic communications plan to quietly build buzz around an individual or organization in a way that elevates both as thought leaders in the local media. We started with research on each of the identified individuals, then provided them with media training, new bios, videos demonstrating their proficiency in conducting on air interviews, and personal landing pages. We scheduled speaking arrangements for them and amplified our efforts on social media. It was a huge success and one that is absolutely repeatable for other organizations."
Katie: "Like anything, search and social are constantly changing. Staying up-to-date on industry trends, platform changes and how to leverage those changes is essential to giving clients the best results. We have a couple of online campaigns going right now that are doing exactly that! Like one with a 2.35 percent CTR in an industry that typically sees an average of 0.90 percent; and another that is generating 180 leads a month from a social ad campaign."
Lindsay: "Before I joined OBI Creative, my team knew we had to do more on Instagram, because it was where one of our target audiences was spending a lot of time. So, we implemented a weekly user-generated content campaign and a daily engagement checklist, along with regular Stories and stricter visual brand guidelines. It worked incredibly well for us! We more than doubled our followers in less than four months, and grew our engagement rate to well over the industry average."
Sara: "Without a doubt it was helping to create a social campaign for a nonprofit that financially supports families battling pediatric cancer. They wanted a social media push surrounding #childhoodcancerawarenessmonth coupled with a Radiothon they were doing to raise funds. I interviewed some of the moms of kids the nonprofit has helped for video footage to use on social media, and hearing their stories was truly touching. It reminded me that social media and communications is still, and always will be, rooted in storytelling. It was my first time really suggesting paid social media, so that was a skill I learned. It was my first dive into a robust campaign plan and all the planning that goes into it. I used the strategy and messaging from the discovery process to create post themes and social copy. Rooting social media back to the strategy and messaging was crucial and made everything easier in the long run."
Just for fun, if you could have one superpower, what would it be?
Ann: "Teleporting. Especially during snowy days and rush hour."
Katie: "Flying. That way I could travel anywhere I wanted to and I wouldn't have to waste time sitting in a car every day."
Lindsay: "Empathy. Like, supernatural empathy; the ability to feel how others feel and influence their emotions in order to make them empathize better with those around them. That, or healing."
Nicole: "Honestly, flying. I remember swinging for hours as a kid, wishing I had wings to soar to new and exciting places."
Sara: "I'd like to believe I already have a superpower of FBI-like abilities to 'find stuff out.' When one of my friends needs to find out anything about a potential new love interest, I have this innate ability to investigate until I find the truth. It must be the journalism major in me. Beyond that, I would love to be able to stop time; then, I could work, cook, watch The Office or New Girl, and then still have more time to work out and work on my passion projects."
Now that you've had an opportunity to get to know our Strategic Communications team and see the breadth of their experience in marketing, PR and social media advertising, put them to work for you! Contact OBI Creative today to discuss your next campaign.