Our New Copywriter is a Master of Many Trades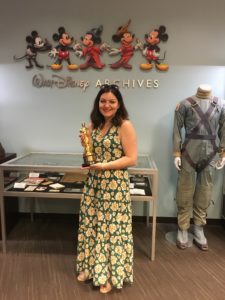 When it comes to content and marketing writing, finding someone who excels at storytelling, social media strategy, YouTube scripts and videos that get close to 2 million views is like a red diamond – remarkably rare.
OBI Creative's new senior copywriter, Stacy Conradt, has a rare blend of expertise not easily found in our industry. After beginning her career with Wells Fargo Financial as an editor for the company's magazine, intranet and video newsletters, Stacy succeeded at bringing humanity to insurance brochures (a feat at which many have tried and failed). Stints at Mental Floss and the Meyocks Group eventually led Stacy to OBI, where she is excited to get in on the ground floor of something that's both meaningful and groundbreaking.
"Mary Ann's infectious enthusiasm and vision drew me to OBI Creative," she says. "I could see that the amazing work coming from the talented people who work here already rivals the output of the best agencies, and now that I work here, I can tell that we're on the brink of becoming a marketing and advertising powerhouse."
Writer, Editor and Researcher Extraordinaire
Working in our Des Moines office, Stacy spins her wheels crafting copy for clients in an array of industries including financial services, insurance, healthcare and retail. She cites the variety as what she enjoys most about working in advertising.
"No two days are alike. I love working on different projects, writing in different styles and collaborating with different people daily. I consider myself very lucky to get to use the creative part of my brain every day as part of my job."
When Stacy isn't writing emails, ads, social content or videos that draw large audiences, you can find her knitting, gardening, running or making travel plans with quirky itineraries.
While she's not proud of her guilty pleasure (ahem…Hallmark Channel Christmas movies), Stacy is proud of her spunky, determined daughters Lydia and Eleanor, and is passionate about raising them to be confident women who stand up for themselves and others.
Put Stacy and the rest of our talented creative team to work on your marketing plans. Contact us today to start a discussion about your needs.