OBI Creative Among Greater Omaha Chamber Business Excellence Award Winners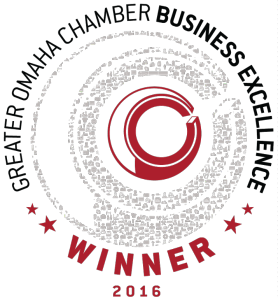 The Greater Omaha Chamber announced the slate of Greater Omaha Business Excellence Award winners at a reception held Thursday, March 31. The awards celebrate companies and individuals who dedicate themselves to excellence and help make Greater Omaha a more vibrant place to do business, work and live.
OBI Creative was one of twenty winners including business such as DLR Group, Farm Credit Services of America and PayPal. Non-profits honored included NEI Global Relocation, Partnership 4 Kids and Project Harmony.
The public is invited to the awards celebration on Tuesday, May 10, 4 – 6 p.m., at Embassy Suites Omaha – La Vista.
Special distinction will be given during the celebration to those winners that demonstrate specific characteristics of excellence in business, including innovation, leadership, philanthropy through nonprofit, and community. Milestone recognition will also be given to businesses celebrating an anniversary of 25, 50, 75, 100, 125 or 150 years in business.
For more information, visit The Omaha Chamber.
###
About The Greater Omaha Chamber
The mission of the Greater Omaha Chamber is to increase business, investment and employment in the Greater Omaha area.
About OBI Creative
Founded in 2001 by Mary Ann O'Brien, OBI Creative is a research­based, innovation­-driven advertising, branding, marketing and communications firm, which focuses on the customer to determine motivations, behaviors and key consideration drivers. Armed with that knowledge, the award­winning OBI team aligns those motivations, with our clients' products and services, to provide actionable, marketing strategies, which drive intended results.