OBI Creative CEO named 2016 Marketer of the Year
OBI Creative takes home six additional awards including two Pinnacles.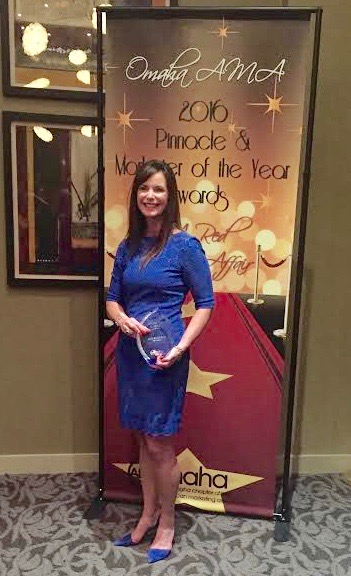 OMAHA, (Neb.) OBI Creative president and CEO, Mary Ann O'Brien, was named 2016 Marketer of the Year by the Omaha chapter of the American Marketing Association. The award was handed out at this year's 2016 Pinnacle Awards Show held Thursday, April 21, 2016.
O'Brien recognized the Omaha business community in her acceptance speech, saying "as marketers, we are privileged, and I really mean that, to support the Omaha business community," calling the people hardworking, ethical, entrepreneurial and brave.
O'Brien went on to say, "As marketers, we are able to move the world by taking complex messages and distill them into something simple and less complex so that consumers can both comprehend those messages as well as respond to those messages."
O'Brien's career was launched as a marketing specialist for Gateway Computers that quickly catapulted her to senior management. In between two stints at Gateway, O'Brien harnessed her innovative spirit and technological savvy to help lead the efforts to build and sell a successful San Francisco start-up which has been heralded to have offered one of the first wireless apps of its kind. In 2003, she returned to Gateway as Chief Marketing Officer leading the computer company's wildly successful "Ask and Deliver" marketing campaign, which ultimately led to the sale of Gateway.
O'Brien returned to the Midwest, and opened OBI's Omaha office in 2006 (OBI Creative began in San Diego, CA), currently boasting a talented team of 25+ employees, a burgeoning book of business, no debt and year-over-year growth rates.
O'Brien is also the developer of the O'Brien Voice of the Customer (o.VOC™) and the o.VOE™, the study of the experience or interaction between a company and its customers from the customer perspective or the employee perspective.
In addition to O'Brien's award, OBI Creative was singled out for two Pinnacle Awards, the top honor given by the AMA. Pinnacles were presented to OBI for the national campaign for the Colon Cancer Coalition Don't Miss It* Ad Series and the Nebraska Humane Society "Help Becomes Hope" campaign in the Total Marketing Campaign category.
The agency was also recognized with two Platinum Citation of Excellence awards and two Gold Citation of Excellence awards.
O'Brien is honored to have received this award and shares it with her team and clients. Hard driving and unique, O'Brien's approach to advertising and strategy is more of a CMO for hire sort of partner vs a traditional ad agency. She always says, if you want more of the same, you would not come to OBI Creative. If you want to win and want to share the good news of your brand with the right target in an engaging and results driven way, then OBI Creative is the right partner for you. Growth is a bi-product of customer understanding and at OBI we understand customers.
-30-
About OBI Creative
OBI Creative is a research-based, innovation-driven advertising agency and digital interactive group. Founded in 2001 by Mary Ann O'Brien, OBI Creative focuses on the customer to determine motivations, behaviors and key consideration drivers. Armed with that knowledge, the award-winning OBI team aligns those motivations, with our clients' products and services, to provide actionable, marketing strategies, which drive intended results.
The O'Brien Voice of the Customer, or o.VOC™ and o.VOE™, is the study of the experience or interaction between a company and its customers from the customer perspective and the foundation for subsequent strategic communications and creative approach. It is used by best in class brands throughout the globe to steer their strategic direction.