How to Make Your Website Not Suck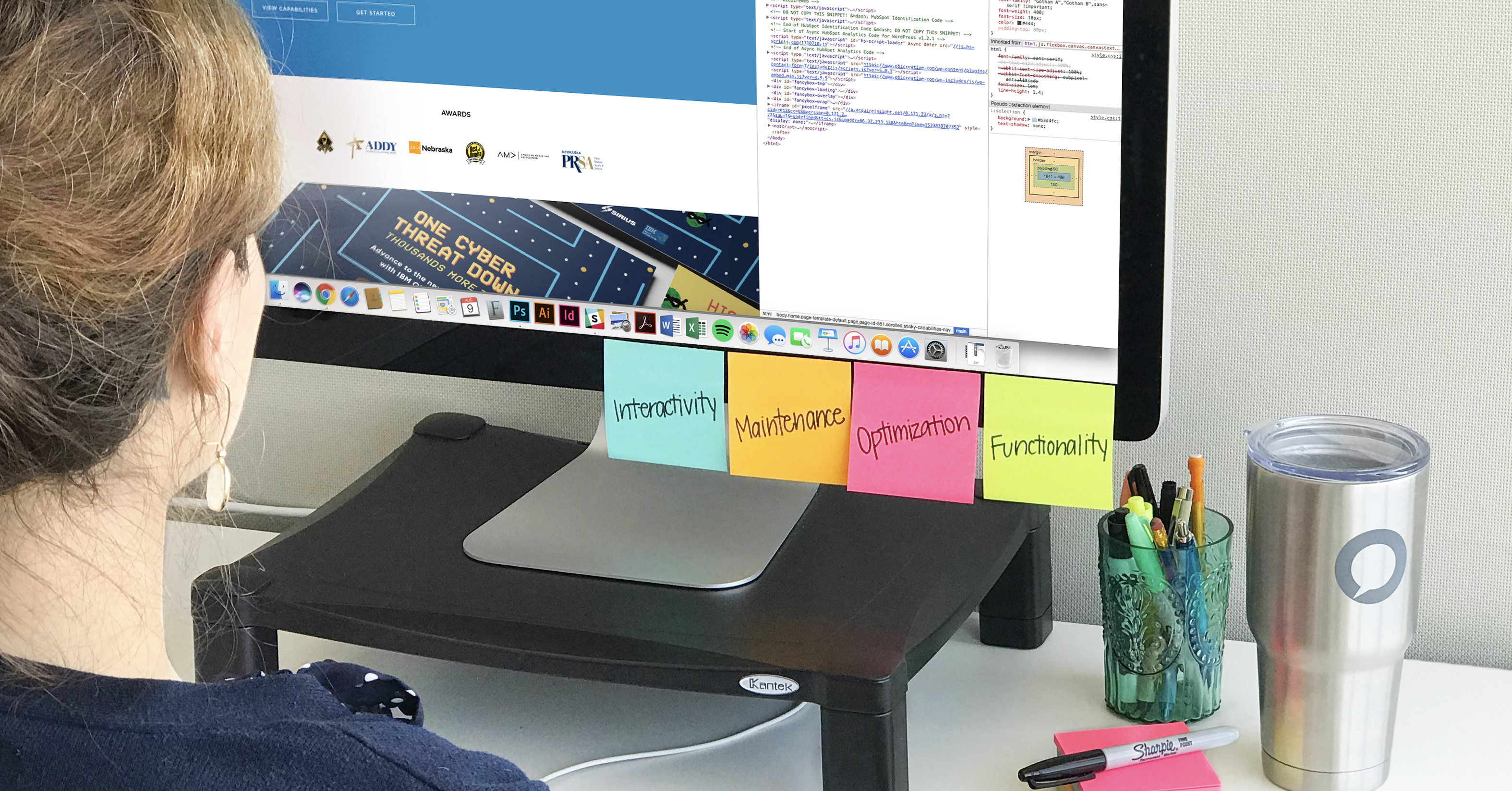 4 Website Best Practices to Follow
We set out to write a post on the new rules of website design and quickly realized that as soon as it published, the information would be outdated. Forget encyclopedias, you could fill a library with volumes of data about website best practices.
We know there's no way we can cover everything you need to know about your website in one blog post.
Instead, we are going to touch on four areas you can focus on to improve the impact and profitability of your website:
Optimization

Functionality

Interactivity

Maintenance
At a high level, we'll cover the basics of designing and/or redesigning an effective website.
But First…A Few Scary Statistics
There are nearly 2 billion websites online right now and more than one new site launches every second.
That's a lot of competition.
Thankfully, less than 200 million of them are active, which makes your hurdle a little lower.
Perhaps more impactful than the sheer number of options out there is the way that the volume of information online decreases our ability to focus on anything for longer than 8 seconds.
Speaking of seconds, you have less than 10 of them to hook a visitor before they leave your website for good. How you help your visitors has to come across loud and clear immediately on your website.
Once your page loads, a visitor will form an impression of your site in less than .05 seconds. If you want to capture your ideal audiences' attention fast and keep it long enough to build a relationship with them that leads to sales and service requests, it's critical that you have a website strategy based on research.
Put Your Customer at the Heart of Your Website Strategy
A strategy should absolutely precede any web design or redesign efforts you're thinking about making because a customer-centric web strategy can help you avoid many of the most common pitfalls people make with their websites.
Some mistakes we see people commonly make with their websites are:
Thinking looks are all that matters

Caring more about colors than conversions

Assuming SEO can be tacked on after launch instead of baked into website design

Not starting with content strategy

Designing with themselves in mind instead of their customers
Whether you're a small business owner launching a website for the first time or a corporate brand getting ready to redesign an existing website, research should inform and strategy should direct your efforts.
If you haven't already, take some time now to:
Think of your website like a house; skip on this time-consuming yet critical step and your site could become a money pit. Pour a well-laid foundation and your site will not only stand the test of time but make you money down the road.
4 Ways to Start Making Money On Your Website
Let's be honest. At some point, your website better become profitable. In some way, it needs to drive leads or sales or you're just throwing your time and money away. Improving your understanding of the following four areas of website design and development will help your site be an asset instead of a liability.
1. Website Optimization
When you think about how your site is both designed and developed, keep two audiences in mind:
Browsers (machines)

Buyers (people)
Before people can fall in love with your brand, they have to find it. People find websites in searches that are powered by web browsers, which are machines. AI-driven bots crawl the vast amount of information on the Internet to return the most relevant search results possible.
Showing up in searches requires on page SEO tags and elements as well as solid behind the scenes schemas and XML sitemaps. It's a delicate dance (with ever-changing moves) that requires backend and upfront optimization.
We touched on the future of SEO and SEM basics recently on the OBI Creative blog so check out those posts now for a deeper dive on the topic. For now, just know that optimization is one of the critical areas you want to keep on your radar.
2. Website Functionality
When we talk about website functionality, we mean how your website works. Answers to a few basic questions can help you determine how well your website is working:
How fast does your website load?

Do you have a mobile-friendly design?

Is your website tracking enabled?

Do you have a back-end CMS installed?

Are standard security and privacy protocols in place?
We know that 39 percent of people will stop engaging with a website if images won't load or take too long to load. What is too long? A single second delay in your site load time can decrease conversions by 7 percent. If your site takes longer than 3 seconds to load, 40 percent of visitors will just leave your site.
So really, you have 3 seconds when it comes to page load time. But even that will make your site feel like the days of dial-up. Aiming to have your site load as fast as possible is good for conversions and for overall user experience.
Speaking of user experience, with so many smartphones in use, your site has to be mobile-friendly to form a positive impression with people because many of them will use their phones or tablets, not a desktop computer, to engage with your website. A full 75 percent of U.S. Internet users surf the net on their mobile devices and 48 percent of users say they take a poor performing business site on mobile as a sign that a business doesn't care about their brand.
Tracking and CMS are two essential tools for analyzing and refining/updating the content on your site. Make sure you have them as part of your website design, along with standard security and privacy protocols. (Tip: if your URL isn't preceded by "https" Google could be warning visitors that your site isn't secure.)
3. Website Interactivity
Without realizing it, many businesses think of their website as if it were a PowerPoint presentation. What do we mean by that?
PowerPoint presentations are static. Listeners can't interact with PowerPoint presentations because they're not designed for that; a great PowerPoint presentation leads viewers to interact with the presenter. Make sure your website is dynamic.
Graphics are just the beginning of designing an interactive website. Yes, your website should absolutely look good, but it should feel good too.
Visiting your site should elicit a specific response from visitors – the response you have designed them to experience, and it should prompt specific actions that benefit your brand. Here are just a few things that an interactive and engaging website should have or be:
Your contact information clearly displayed on your homepage and every page of your site. (

44 percent of visitors will leave your site if there's no contact info.

)

Conversion-ready with landing pages that make it easy for visitors to set appointments, schedule product demonstrations and make purchases

Email capture forms that are synched with your email marketing system

Integrated social media channels and content

Animated transitions

Push notifications
Keep in mind that this is a very short list and is in no way conclusive or exhaustive. When designing your site, let your content strategy inform and guide your application of interactive principles.
If all else fails, keep your customer in mind and focus on creating an experience around them.
4. Website Maintenance
Remember that old saying, "If you build it, they will come?" Well, when it comes to your website, the saying should be:
"If you build it, water it, weed it, mow it, rake it, seed it, and tend it, they will come and keep coming."
A website is a living organism that dies a little every day unless you nurture it.
Everything we've discussed thus far needs to be done on a regular basis for your website to thrive.
Feeling overwhelmed? It's okay! OBI Creative is here to help. Our talented team of digital experts make it their business to know the best practices of web design and development and love crafting engaging, effective websites for clients.
Give us a call today to discuss what we can do for you!
---
Free Digital Audit
Do you know how your website is performing? Is it up to industry standards? If you don't know, or you aren't sure it's achieving the right results, don't sweat it; we're here to help! Sign up for our Free Digital Audit and we'll provide recommendations to optimize your performance and increase your ROI.