03/31/23
Be Seen: The Benefits of OTT/CTV Advertising
As traditional TV viewership continues to decline and streaming services grow in popularity, it's become increasingly important for businesses to consider OTT/CTV (connected TV/over-the-top) ad placements. OTT/CTV advertising is a form of digital advertising that target audiences through connected devices and streaming services such as Hulu, Netflix, Amazon Prime and others.
But what are the benefits of OTT/CTV advertising? And for brands considering the use of these ad platforms to reach target audiences in this space, what are the top OTT/CTV networks to focus on?
OBI's media buyers have valuable experience working across multiple OTT/CTV networks — including ad placements across Disney, Hulu and ESPN — and can build winning strategies to best leverage these mediums for clients across industries.
Benefits of OTT/CTV Advertising
There are many benefits available to brands that advertise across OTT/CTV platforms.
Targeted Advertising: OTT/CTV advertising allows for precise targeting based on factors such as audience demographics, behavior, location and interests. This means businesses can reach their target audience more effectively and efficiently.

Greater Reach: With the rise of cord-cutting, streaming services are becoming more popular — more people are watching OTT/CTV content. This increased viewership offers businesses the opportunity to reach a larger audience without cable advertising.

Easily Measurable Results: OTT/CTV ad placements allow for real-time tracking of ad performance, allowing businesses to adjust on the fly and optimize their campaigns for better results.
Top OTT/CTV Advertising Networks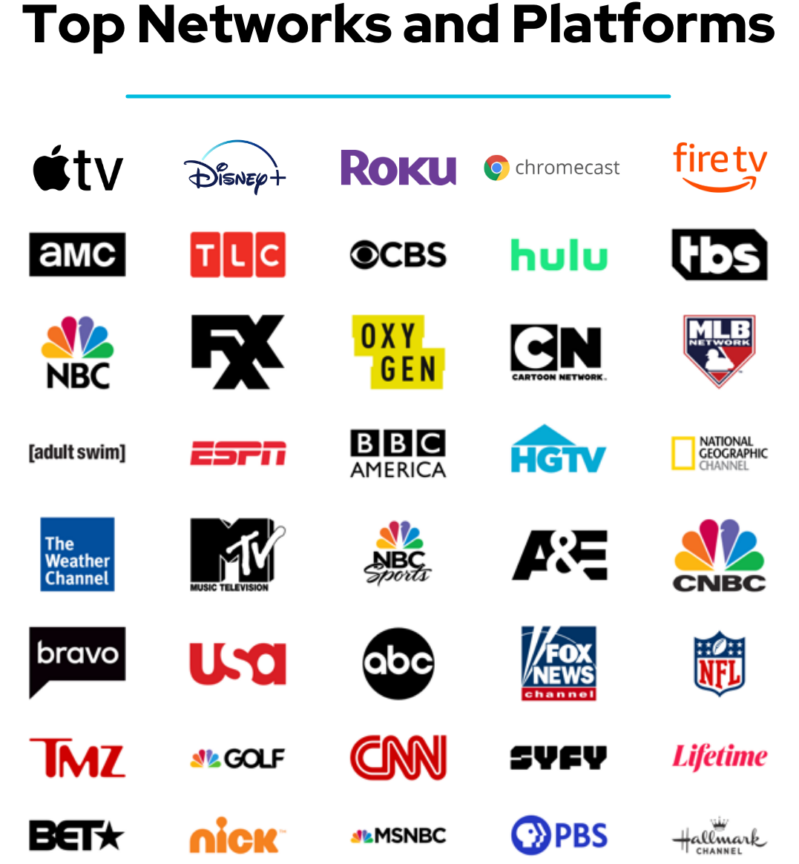 There is an ever-expanding list of OTT/CTV networks available for businesses to advertise on. Networks such as Roku, PlutoTV, CBS, NBC, CNBC, Fox News, HBO Max, Discovery+, Sling TV, SamsungTV, LG, Vizio, Xbox and others allow users to stream their favorite shows, movies, news, sports and live events on-demand. With the rise of cord-cutting and the increasing number of people turning to streaming services, OTT/CTV networks have become some of the most popular platforms for entertainment consumption.
And to get seen, brands need to intersect with their target audiences where they are.
Just like the list of OTT/CTV platforms keeps growing, so does OBI's OTT/CTV advertising arsenal. Recently, OBI's media buyers gained access to premium Disney+ inventory for CTV, allowing us to buy locally or nationally on the streaming service that includes some of the world's most popular IP — Disney, Pixar, Marvel, Star Wars and more.
With this capability, OBI's performance marketing team has access to inventory on all Disney advertising properties.
Why does that matter?
Here's a quick look at the advertising value and performance these platforms offer.
Disney+
Disney+ offers businesses the opportunity to advertise on a family-friendly streaming service alongside some of the most recognizable IPs in the world. They offer various ad formats, including in-stream ads and sponsored content.
88%: Impressions delivered in full episodes, movies, and live streaming
71%: Impressions viewed on CTV devices
13%: Higher VCR than the industry benchmark
ESPN+
ESPN+ offers various ad formats, including pre-roll, mid-roll and post-roll ads. ESPN+ also offers advanced targeting options, including sports genre targeting, which allows businesses to reach a specific audience.
91%: Completion rate
67%: Content live-streamed on a large screen
99,000: Hours of programmatic-enabled live sports streamed in a week
Hulu
Hulu offers a variety of ad formats, including pre-roll, mid-roll and post-roll ads with a mix of playtimes. Hulu also offers advanced targeting, including demographic and behavioral, allowing for more effective audience targeting.
64%: Hulu customers who have gone cordless
115 million: Viewers on ad-supported tier (about 1/3 of the U.S.)
Improves metrics for products and services advertised
Delivering Media Results for Our Clients
Although we've only recently gained ad access to the premium Disney+ inventory, we have a lot of experience with OTT/CTV advertising on various networks — including Hulu. In the final quarter of 2022, our media buyers worked with the state arm of a leading national health insurance organization on a multichannel ad buy, with impressive results.
Impressions: Running four separate campaigns targeting different audiences, our ads received 14 million impressions during Q4. These impressions delivered a significant lift in both website traffic and leads.

Targeting: We utilized multiple third-party data providers to ensure precise targeting for each campaign. This allowed us to reach the right audience and demographics for our client, drastically increasing the effectiveness of the campaign.

Preventing Ad Fatigue: We delivered over 700,000 impressions through Hulu despite the ad frequency rate being 59% lower than our other CTV placements. This allowed us to shift most of our spending to Hulu — both to prevent ad fatigue and increase the effectiveness of the campaign. Our status as a Hulu Agency Partner gives us increased effectiveness on their platform.
"As our campaign progressed, we were able to identify an opportunity to further reach their target audience by expanding our efforts to Hulu," said Josh Trecartin, OBI paid media manager. "Through Hulu, we increased our target audience size, delivered more high impact creative, and obtained a more efficient CPM."
Connect With Your Target Audiences
OTT/CTV advertising has become an essential tool for brands looking to effectively target and connect with their target audiences. In the era of cord-cutting, and with the number of streaming services continuing to grow, OTT/CTV platforms offer a powerful way to position brands in front of relevant and engaged audiences.
If you think a OTT/CTV advertising campaign would benefit your brand, but you're not sure where to start, our experienced media planners are ready to help develop a targeted strategy to maximize your budget and deliver results.
Don't miss out on the opportunities that OTT/CTV advertising offers. Let's start a conversation today so your brand can take the first step to a deeper connection with your target audiences.
---