10/22/21
Drive Results With Local SEO and PR Marketing Integration
SEO. PR. There's a good chance you've implemented each of these marketing strategies to an extent. But do you understand how local SEO and PR marketing integration can take your brand awareness and performance to the next level? Let's dive in.
Why SEO?
To start, let's answer a couple of questions. Namely, what is SEO, and why does it matter?
What is SEO?
SEO (search engine optimization) is the practice of creating and refining online content with the goal of driving quality traffic to a website.
An SEO strategy includes writing content targeting specific long-tail keywords that people are looking for in search engines, technical updates to improve a website's performance and managing relationships with other online sources.
Why does SEO matter?
When you have a question about something, how are you likely to go about finding the answer? According to data from Think with Google, if you're like 87% of people, online search will be your first step.
As you work on your website's SEO, your overall aim is to improve your position on search engine results pages (SERPs). The higher you place on SERPs, the more likely it is that your website will earn traffic, and hopefully leads.
Including SEO as part of your brand awareness and lead generation strategies is incredibly important in our search-driven landscape. And if you use local SEO best practices in your content, you put yourself in the best position to capitalize on geographically targeted searches.
Although Google regularly updates its algorithms, which can lead to changes in traffic patterns, well-optimized content is evergreen. This means once you have content that matches searcher intent, you will likely continue to see traffic generated to your website without having to continue paying for ads.
That's a (very brief) primer on SEO. What about PR?
Why Is Public Relations Important?
At its core, the importance of public relations in marketing is about establishing trust, maintaining image and building relationships with third parties. It plays a role in brand awareness, reputation management, consumer trust, lead generation and more. Brands that care about their public perception (which should be every brand) should be investing in PR at least at a basic level.
Traditional public relations refers to engaging with the media, landing prominent placements in publications and earning mentions from journalists. This is often called earned media. It's still a key tactic of a public relations strategy, but the landscape has changed and there are many more tactics to employ in an effective PR strategy.
How Do Local SEO and Public Relations Work Together?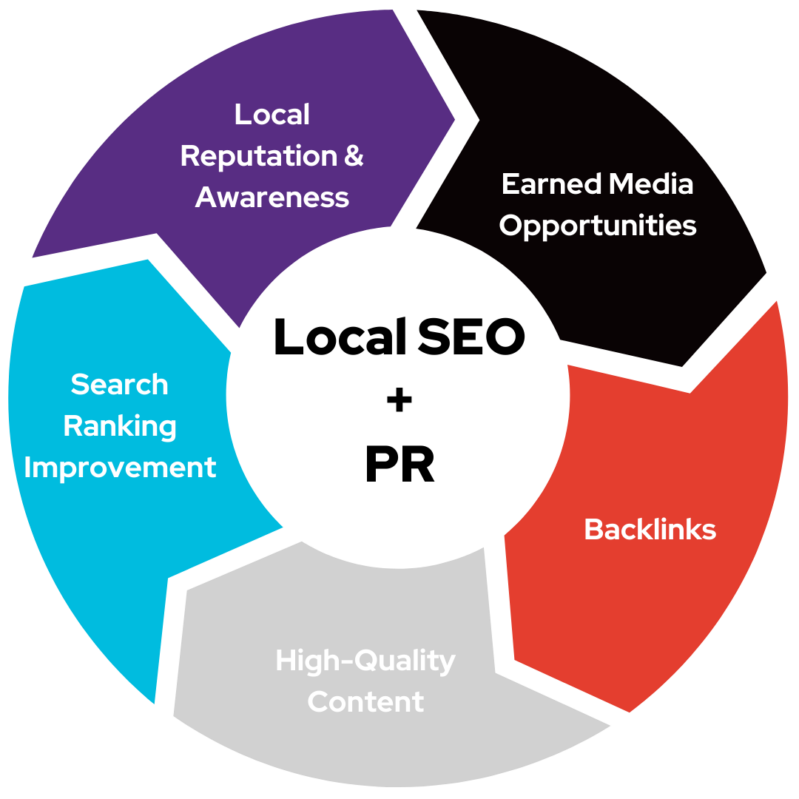 When done right, local SEO can amplify PR — and vice versa. Here's how.
As you improve your search rankings, your website will show up higher on the SERPs and in more places online. The more your content and expertise provide solutions to searchers' needs, the more credibility and authority your site will gain.
That increased authority and relevance will be attractive to journalists and other third parties as well. When they see you as a go-to resource for specific information, they'll be more likely to leverage your expertise for their audiences. Whether it's local news stations, online publications or organizations asking you to contribute on their blog as a guest author, each mention sends a signal to Google and other search engines that your website is credible, authoritative and worth directing search traffic to.
Here are some key SEO tips for building out your local SEO and PR marketing integration efforts.
1. Content Strategy
As tools for building brand awareness and recognition, both PR and SEO help to increase the chance that your target audience will find and engage with your content. They also can help you understand what your audience is interested in and, therefore, what your content should be about.
Understanding SEO helps brands find the intersection of their messaging and their audience's interest. Content marketers need to understand the importance of keywords in search engine optimization, but that understanding can inform your PR messaging as well.
If you know that your audience is interested in learning about certain topics through online search, there's a good chance journalists will be looking for knowledgeable experts on that content for their audiences as well.
2. Link Building
One of the biggest factors that influences Google's SERP rankings is backlinks. Backlinks are links from an external source that point back to your website. Consistently getting in the news or receiving mentions in the media are prime opportunities to earn a link to your website.
Leverage any relationships with reporters giving your brand mentions to also include a link back to your website. And be proactive in seeking out those backlinks as well. Find other companies that might benefit from exchanging links and offer to swap mentions and links in on-site content.
3. Press Releases
If you're putting out press releases, you can't guarantee journalists will be interested in your story.
However, you can boost the impact of a press release by loading it up with strategic keywords. If a journalist is interested, they'll potentially incorporate some of those keywords in the content they write about your business.
Additionally, consider adding a section to your website where you can publish press releases and blogs to further drive organic traffic for your brand.
4. Online Listings and Reviews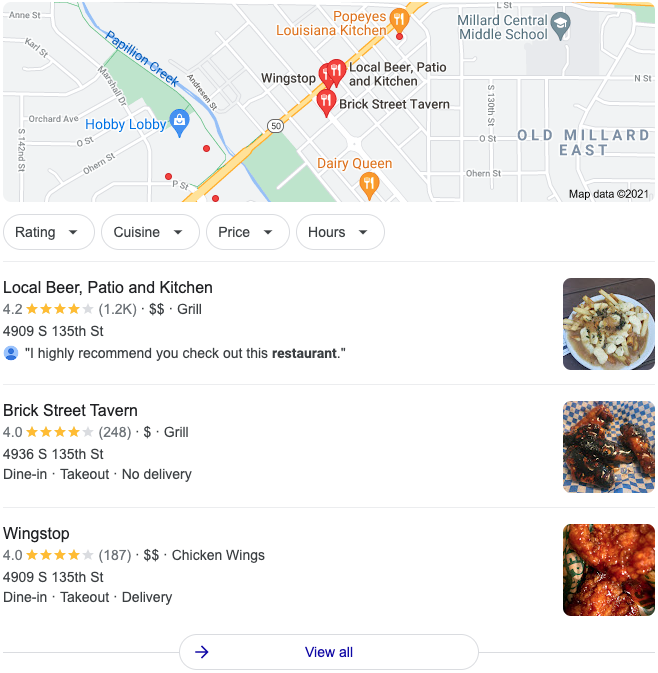 To show up in local searches, Google needs to associate your business with your location. This can land you in the maps pack — the three businesses listed below a map in local searches. There are several listing sites (UpCity, Yelp, TripAdvisor, etc.) that can host reviews and signal your value to search engines, but the 800-pound gorilla in the room is Google My Business (GMB).
If you haven't already claimed your business's GMB listing, do that immediately. Having an up-to-date and optimized GMB listing gives Google everything it needs to display your business information for local searches.
Some key factors to include when optimizing your Google My Business profile:
Make sure your name, address and phone number are complete and correct.
Add business hours, if relevant.
Ensure your primary and relevant secondary categories are filled out.
Incorporate targeted keywords in your property description.
Solicit reviews from customers, and respond to all reviews, both positive and negative.
Fill out your Q&A section with relevant content.
Add high-quality pictures of your business.
There isn't a one-size-fits-all approach to SEO or PR for any company, but when you understand how PR best practices for SEO influence your search performance, you'll boost your efforts and see greater results.
Not sure how to take the next step? The specialists providing traditional and digital PR and SEO services at OBI Creative are ready to help you develop an SEO and PR strategy.
---