08/07/19
What is Media Buying and Planning?
To say that media buying and planning has changed in the past 20 years is an understatement. Technology has changed this essential aspect of advertising and marketing strategy as much as it has the way we shop, work and connect with others.
Just as the Internet revolution changed commerce forever, it has even seasoned advertisers asking the question, "What is media buying and planning today?"
How Media Buying and Planning Has Changed
Just two decades ago, media planning and buying in advertising consisted of print, radio, OOH and TV. Social media didn't exist. Let that sink in.
Social media didn't exist.
There was no digital marketing.
While media buying has always been integrated across available channels, today the process is integrated across practices into activities that used to be considered separate. Technology has intertwined social media, blogging, PR, communications and branding such that media planning and buying must take all of them into consideration. It has also enabled targeted messaging to custom audiences at a deeper level than in the past.
Twenty years ago, more or less homogenous messages were broadcast to a large audience. Think of it like casting a huge net into the sea. You'd catch many fish you were looking for and some you weren't.
Today, the digital revolution has enabled targeted media buying that acts like a sensor-tipped spear, honed in on and targeting the exact fish you want to catch. It's a lot to take in, whether you're new to media buying and planning or not.
In this media buying guide, we cover the media planning and buying process, its role in marketing strategy and how to use media buying to connect with your ideal audiences.
Media Buying 101: A Digital Marketing Guide
Media planning and buying involves strategy, negotiation and placement of ads. Skilled media buyers understand profitable media buying is both science and art.
"Since 2001, we've been leveraging a combination of audience segments and digital tactics to attract, convert and close prospective customers based on where they are in the sales funnel," says Ann Marie Fereday, Director of Planning and Activation for OBI Creative. "This looked different in 2001 than it does today, but if you're not changing, you're not growing."
The very best media buying starts with effective messaging. Media buying and planning is a five-step process that begins with identifying target audiences.
Media Buying and Planning is a 5-Step Process
Digital media planning and buying is a process that helps businesses and brands connect with prospects and customers as they move through the four stages of the buyer journey.
The five steps of the media buying and planning process are as follows:
Identify target audiences through comprehensive market research.
Understand your audiences' interests.
Find your audiences when they are most receptive to your messages.
Deliver creative that motivates them to take action.
Test and retest your ad placements and creative to uncover what's working and what's not. Refine and improve.
This process adapts to all stages of the buyer journey.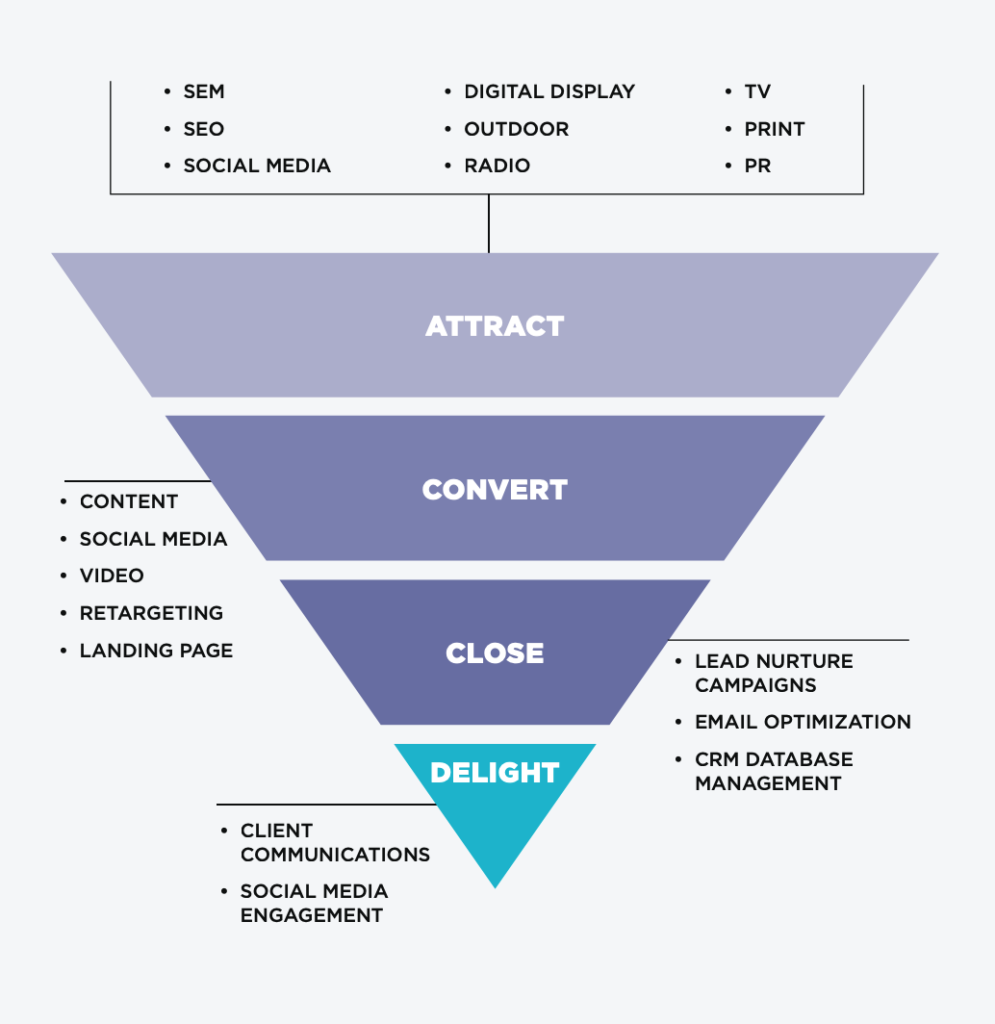 In the first stage, where you are trying to generate awareness of your brand you use a range of research tactics and placements to cast a wide net and attract your ideal audiences to content related to your products and services.
Media Buying Tactics to Connect With Your Ideal Audiences
The goal of media buying is to place your ads in front of your ideal audiences at the right time, place and context for them to be seen and acted upon. Tactics vary, but can include the following:
SEM
SEO
PPC
Social media ads
Digital display advertising (demographic and behavioral)
TV & OTT
Outdoor billboards / out of home ads / geospatial targeting
Radio and digital audio (e.g., Pandora, Spotify, iHeart, podcasts, etc.)
Print
PR
Strategic partnerships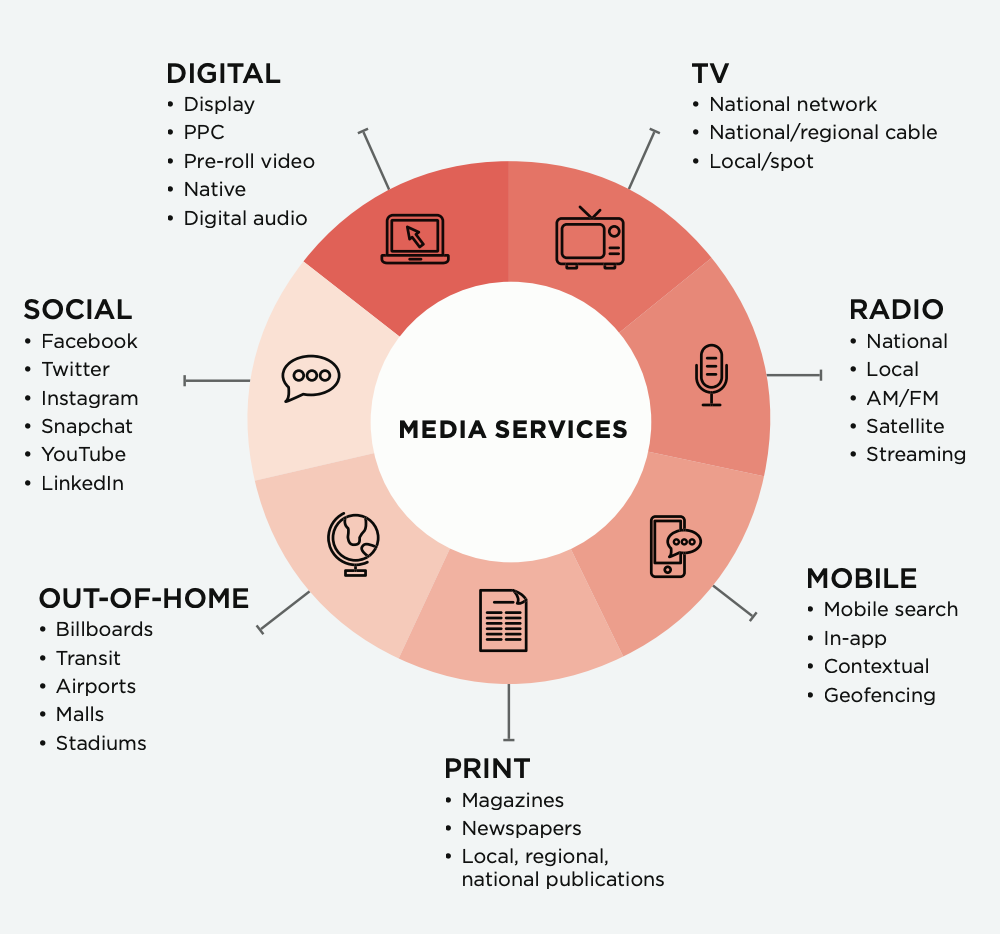 Which ones you use depends on what research reveals about where your ideal audiences consume on and offline media.
In the convert stage, where you are actively trying to turn prospects into customers, the PESO model for PR and advertising helps you create content, design social media strategy and create videos, retargeting ads, geo-fencing, keyword and contextual advertising and landing pages that generate leads for your business.
As you follow up on leads and activate your sales team to close those leads into new customers, media buying and planning can help to keep your brand top of mind. Tactics that deliver value to the customer and educate them on what differentiates your brand will prove to be most successful during this stage. Those tactics may include:
Lead nurturing campaigns
Point of sale placements
Offers and promotions
Email optimization and nurture campaigns
CRM database management
Finally, after you gain new customers, you continue to advertise to them. Connecting with them again and again through communications and social media engagement as part of an overall inbound marketing strategy.
What is Media Buying and Planning?
If you're still asking yourself, "How does media buying work?" hang in there. We're about to dive deeper into the types of placements media buyers negotiate on behalf of brands and businesses to give you a better understanding of how media buying works.
OBI Creative is a full-service advertising agency, which means we have the talent and expertise to handle placements of all traditional and non-traditional media, including television, radio, audio, digital, OTT (over-the-top/streaming), social media, OOH (out-of-home) and print/publications.
Not every agency is skilled in performing effective media placements in both traditional and digital media. Thankfully, our media buying team has more than three decades of experience executing successful media buying strategy and placements.
All of our marketing services, including social media management and search engine marketing are handled in-house, which is something you want to look for should you decide to engage the services of a firm to help you with your media buying planning and digital media strategy.
A firm with all its media buying services in house helps ensure your market research doesn't get lost in translation. You want to make sure your brand remains consistent over time; that each and every tactic is synchronized to achieve the goals of your marketing campaign. Most importantly, you want to ensure your campaign is drenched in research and fine-tuned over its execution to drive optimal results.
All media buying efforts should be focused on increasing your conversion rate and decreasing your cost per conversion. Set SMART (specific, measurable, attainable, relevant and timely) goals at the start of your campaign to serve as benchmarks for your media buying strategy and to guide the implementation of your tactics.
Resist the urge to focus on metrics that don't align with your campaign goals. Track your benchmarks on a weekly basis and use a combination of reporting tools (e.g., Google Analytics, Facebook, Sprout, SEMRush, RivalIQ, Moz etc.) to gain insights that allow you to continually prioritize your audiences, ad placements and media buying budget.
Most media buying consists of a mix of traditional and targeted media placement activities. The exact mix depends on your brand and more specifically, where you can meaningfully connect with your ideal audiences. It also depends on the goals of your marketing campaign — whether you want to generate awareness or prompt sales of specific products and services.
Media Buying Tactics – Programmatic Digital Display Advertising
Speaking of prompting sales of specific products and/or services, programmatic digital display advertising is an ideal tactic for accomplishing that purpose. The beauty of digital advertising is its ability to target specific audiences based on their stage in the sales funnel.
Today, targeting criteria are endless. It often makes sense to build a target audience using first party data such as a list of current customers of the product or service you want to promote. Use intelligent data visualization and analytical tools to identify similarities and lookalike audiences who match those customer profiles.
These are your ideal audiences. Once you have them, you can target them with your campaign messages and ad placements.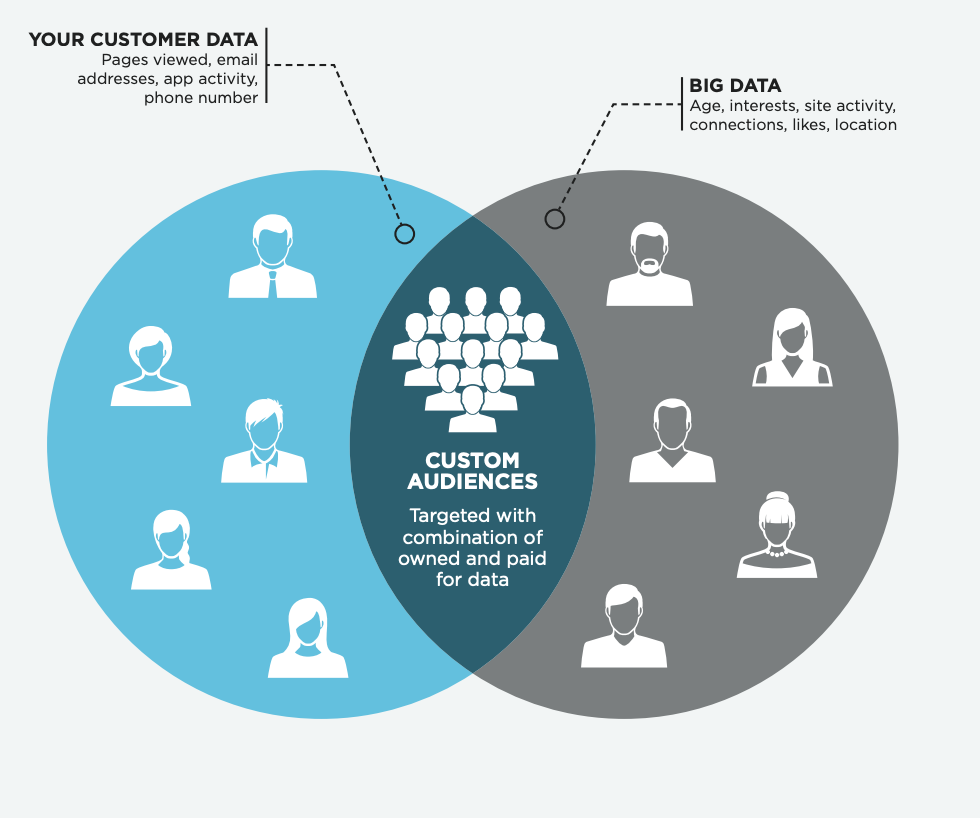 With your ideal audiences identified, you can layer on additional audiences to extend your reach and ensure your message aligns with the appropriate stage in the buyer funnel. Additional digital targeting tactics include:
Demographic variables
Geographic / geofencing variables
Behavioral variables
Keywords (SEO targeting)
Interest categories
IP Address Targeting
In-market audiences
Lookalike audiences and custom audiences
Retargeting and remarketing efforts
These tactics are arranged as part of a media buying strategy that moves your prospects through the sales funnel.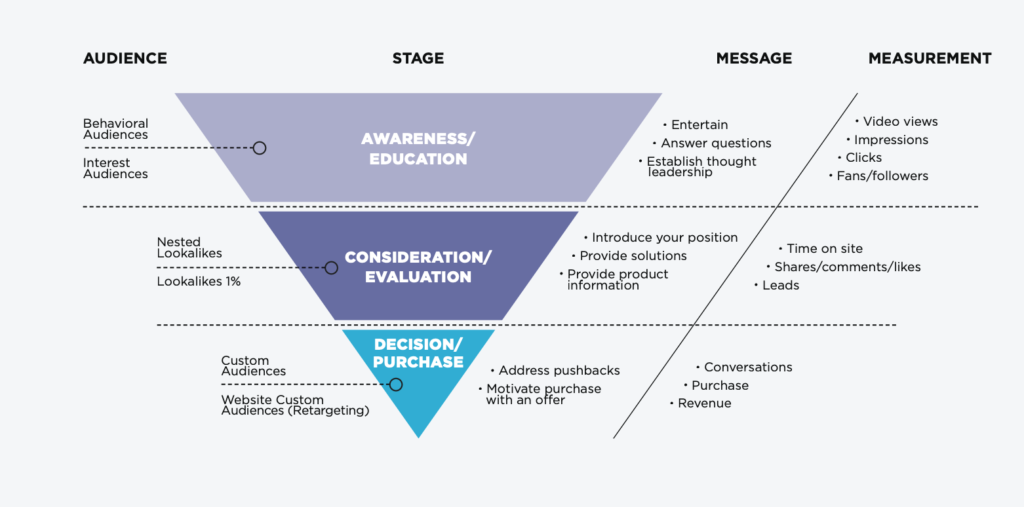 All of your messages must work together to move prospects through the funnel toward the decision or purchase you want them to make.
What about Pay-Per-Click (PPC) Advertising?
Along with questions about SEO and SEM, PPC is something we commonly see people misunderstand. Research shows that 81 percent of shoppers conduct research online before making a purchase, which makes search engine marketing campaigns highly effective at driving traffic.
By placing ads in front of users who are searching for intent-based keywords, you increase your chances of generating awareness and capturing leads. In this way, PPC helps give your ideal audiences what they are looking for.
PPC criteria or variables can include:
Age
Gender
Parental or marital status
Household income
Time of day or week
Education level
Homeownership status
Device type (mobile, desktop, tablet)
Paid search campaigns generate the highest click-through rates of any digital marketing tactic, so it only makes sense to include PPC advertising as part of your media buying and planning process. A successful PPC campaign follows a three-step process:
ID the goals, objectives and targeting metrics
ID priority keywords & create ads that entice your ideal audiences to click
Run PPC campaigns to maximize traffic to your landing pages
When buying search keywords almost everyone starts with Google Ads. Consider a Bing strategy to supplement your Google campaign. Although Google has the majority share of internet searches worldwide, Bing still results in 25% of the US's searches and the pricing is significantly lower. According to ReportGarden the average CPC on Bing is $7.99 compared to $20.99 on Google.  
As the campaign progresses, monitor and optimize daily to increase conversions and decrease the cost of conversion.
Where Does SEO Come In to Play?
We've talked about SEO fully elsewhere on the site, including the future of SEO in voice search, but here, it's just important to recognize that SEO is a part of media buying strategy.
SEO, or search engine optimization, is how you increase a website page's position on search engine result pages like Google, Bing and Yahoo. Incorporating an SEO strategy into your media buying and planning activities helps your landing pages show up in search results, getting your messaging in front of your ideal audiences.
SEO is vast and broad, but generally includes the following elements:
SEO audit and strategy
On-page SEO
Technical SEO
Off-site SEO
Social Media Buying
Social media has grown beyond purely social activity. Consumers are bypassing search to make purchasing decisions directly on mature platforms like Twitter, Facebook, Instagram and YouTube.
Within the PESO model, social media falls primarily in the shared media component, but may also be considered paid media when exposure is boosted through paid media campaigns. Determining which channels to advertise on depends on who you are trying to reach and the specific goals of your campaign. We have seen success targeting key individuals on LinkedIn, running paid campaigns with influencers on Instagram and ad campaigns on Facebook.
While creating original or "organic" content for social channels remains critical, to be seen on social channels today requires payment. Social media is no longer free. Still, with the right tactics and plan in place, you can achieve your objectives by executing paid campaigns on social channels.
Media Buying on TV and Radio
With all the talk of digital marketing tactics, it's important not to overlook traditional media buying channels like TV and radio.
No other channel has the longevity and reach of TV. It still makes an emotional connection other mediums can't match. People watch TV on smartphones and tablets wherever they are. For this reason, you should make over-the-top (OTT) TV and traditional TV advertising part of your media buying strategy.
Use third-party ratings and analytics like Nielsen ratings, ComScore ratings, TVB information and Scarborough to choose your placements strategically and track their performance. Radio has its place as well. With streaming services like Pandora, Spotify and iHeartRadio that let listeners create custom playlists, people are more likely to listen longer, creating opportunities for repeat exposure to your messages.
Depending on your local market, buying airtime on your local radio station may be an effective way to reach your target audiences. Let research guide your media buying strategy. Don't write off traditional channels just because they're not 'new.'
Media Buying Invoicing and Cross-Checking
Once your placements are made and your campaign is in full swing, your work is not done. In addition to honing your campaign efforts and making any necessary adjustments, you want to evaluate all of your media invoices and cross-check them against insertion orders to make sure you received everything you were promised during media buying negotiation.
Identify discrepancies and resolve them properly to ensure you get every penny you pay for.
Who Needs Media Buying and Planning?
The real question to ask is who doesn't need to engage in media buying and planning activity? OBI Creative helped Nebraska CASA generate 120 volunteer signups, 7,000 clicks and 6 million impressions as part of a media buying strategy.
We've executed successful media buying strategies for other higher education institutions as well as a credit union, hospitals and healthcare organizations and retail brands.
If you've bought in to the idea of media buying for your brand or business but feel overwhelmed or unsure of where to start, reach out to OBI Creative today. Our media buying team would love to help you identify goals and craft a media buying campaign to achieve them.
Let us help you get started with media buying today!
---