03/29/18
Wrapping Up Q1 — 6 Reasons Why Research Rules (Infographic)
In the world of marketing change is the only constant. To put off innovation for another day is to embrace withering. In short, if you're not evolving, you're dying. Wanting to see all our clients thrive, OBI Creative has dedicated our content calendar this year to discussing the new rules of advertising and how to implement them (as well as the old ones that still work) at your business to ensure you don't just survive the coming year, but that you reach new levels of success.
In Q1, we started our content journey where every marketing, sales and operations effort should begin — with research and strategy. Research into who your customers are and what they want is the cornerstone of every successful marketing campaign. So, we covered the topics essential to understanding the journey customers take from the moment they meet your brand to the day they become loyal advocates.
Here's a recap of what we discussed this quarter:
Marketers have more data available at their fingertips than ever before. Yet, marketing efforts and, in particular, advertising campaigns still seem to mystify many. We offered four principles for putting research at the heart of all you do, with the end goal of building a strong brand for your business:

Build Your Brand From the Bottom Up

Study Your Customer

Study Yourself

Streamline Your Efforts With the Right Tools
We broke down these concepts and made the case for including them in your business vocabulary. Customer journey is the new reality. If you realize that every interaction your customers have with your brand is part of a journey they are on that moves them from having no relationship with your business to arriving as a loyal advocate, then you believe in and practice the idea of customer journey. We also discussed why inbound marketing is better than broadcast marketing. We won't recap the whole thing here except to say the main reason is that inbound marketing is all about your customer, whereas broadcast marketing is all about you. As a consumer, which kind of messaging would you rather receive?
You've probably heard of them but do you know how to create them and use them, or why you should? We went behind the scenes to show you how the buyer personas we developed help direct our marketing efforts and our content creation.
Finally, we covered one of the most often overlooked aspects of marketing research — using it. You'd be surprised at how many companies invest in market research or understanding their customer journey only to stop at the research readout. We care about our clients' businesses too much to let that happen. We use the insights gained in research to craft messaging that resonates with customers and to direct strategy and ultimately, creative campaigns that drive results.
To tie up our content with a pretty bow (and to help our readers who are visual learners! ????), we created a spiffy little infographic to sum up the value of building your brand messaging, strategy and campaigns on research. Enjoy!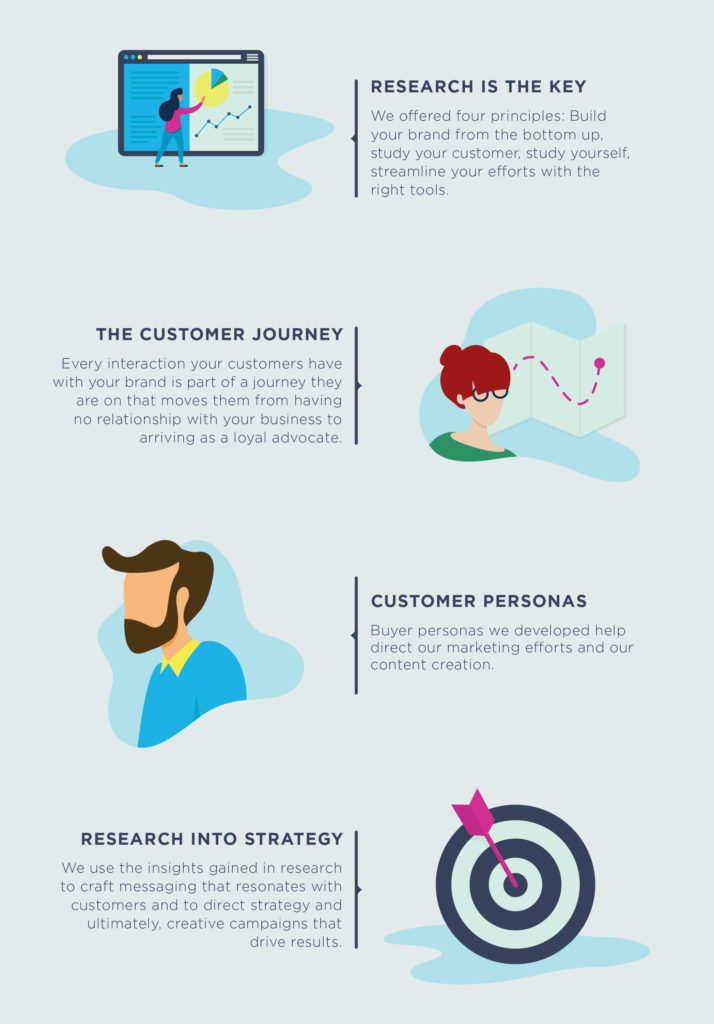 ---