09/04/19
Why Inbound Marketing Works for Businesses That Want to Grow
Today is a good day for talking about why inbound marketing works.
Why?
Because inbound marketing drives results.
Inbound marketing, or content marketing, gets three times more leads than paid search advertising.
With only 22% of companies saying they're satisfied with their conversion rates, Google being responsible for 94% of organic traffic and 90% of searchers saying they haven't made up their minds about a brand before beginning a search, it's no wonder that generating traffic and leads was respondents' top marketing challenge in Hubspot's latest State of Inbound survey.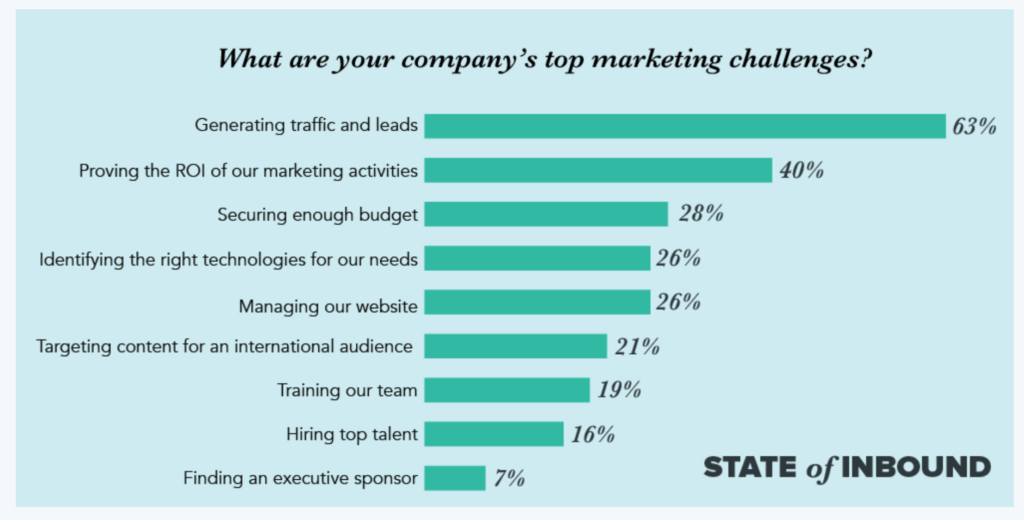 Inbound Marketing Generates Leads
Inbound marketing is a big part of generating traffic and leads. That's why it matters and it's here to stay.
Although we've talked about it before as a critical element of the PESO model, it's worth exploring how inbound marketing is changing.
But first, a quick recap of inbound marketing as a profitable strategy for your business.
What is Inbound Marketing?
Inbound marketing is the key to creating content that converts.
Coined by Hubspot in 2006, it's a strategy that focuses on attracting people to your business instead of pushing out messages to them. Hubspot captures this process in a four-stage methodology, illustrated below:

This "new" way of advertising or marketing attracts prospects to you. Then, inbound marketing converts them into customers with content that tells a story. Traditional marketing sells product benefits and features. Inbound marketing connects with consumers in a meaningful way.
Then, after closing customers with a satisfying user experience, inbound marketing continues to delight with ongoing relevant content.
Traditional advertising through targeted digital ads is necessary, but so is inbound.
Inbound marketing is a must in today's connected, digital age.
Why Inbound Marketing Works
Social media platforms connect, inform and empower consumers. We have more freedom and choice.
Powerful and persuasive ads are necessary, but they aren't enough.
We must use inbound marketing if we want our businesses to grow. Why? Consumers expect it.
Why OBI Creative Believes in Inbound Marketing
As a Hubspot Certified Agency, OBI Creative practices inbound marketing. We believe in it for ourselves and our clients.
Inbound marketing and the content you create within your inbound marketing strategy starts with your customer, not your brand.
There's an infinite amount of content on the Internet.
You can try to capture lightning in a bottle with content that starts trending, or you can get to know your customers really, really well.
Create customer personas that inform, anchor and organize your content. Write content to those personas. This ensures your customers will find your content and once they do, they'll be so delighted that they'll keep coming back for more.
That is the way inbound marketing has worked for the last 10+ years. Today, it's an established practice and like all mature marketing methodologies, it's evolving.
4 Ways Inbound is Changing
As we consider the way marketers and brands are using inbound marketing now, four trends are worth mentioning. These trends show how inbound marketing is changing.
1. Storytellers are Using Inbound Marketing to Become Thought Leaders
Storytelling is an essential element of blogging and copywriting. It's the best way for brands to make lasting connections with consumers. Inbound marketers are using it to establish thought leadership.
It's not enough to tell a compelling story. Everyone is doing that.
Consumers expect you to tell them stories.
To stand out, you have to share your insight. You have to show that you are a thought leader even as you share your personal experience in your area of expertise.
All of this is required to convert prospects into customers and customers into loyal advocates for your brand.
2. Inbound Marketers are Clamoring for Automated Marketing Platforms
A second trend complementing the effectiveness of inbound marketing in 2018 is the user of automated marketing platforms. Hubspot is a prime example. We use it here for ourselves and our clients because it makes inbound marketing so much easier.
An integrated marketing automation platform lets you do SEO, email marketing, social media management and blog as well as monitor, track, report and design all in one place.
From entering lead data to creating content for those leads to tracking and tweaking the performance of your marketing efforts, an integrated marketing automation platform is one development marketers should not only be thankful for but using to amplify the impact of their inbound marketing strategy.
3. Inbound Marketing Can Drive Traffic with Guest Blogging
Blogging is one of the best ways to drive traffic to your site. That may be why 55% of marketers say blog creation is their top inbound marketing priority.
Blogging is effective but it takes time and lots of high quality (read long and well-researched) blog posts going up frequently to be seen in Google search results and thus drive traffic to your site.
Especially when you're starting out, it can be difficult to get the kind of traffic you need to see measurable results from your content creation efforts.
That is where guest blogging comes in.
Not only is it a legitimate aspect of PR within the PESO model, but it is an excellent way to leverage the wider reach of better known, more highly trafficked and reputable sites, for your own brand.
Here's how it works.
You build a relationship with a widely-read and well-respected site within your industry or niche. You offer to write about a topic you are knowledgeable about for their site. They get good, free content. You get traffic and more potential repeat readers from the exposure on their site.
Hopefully, you can get a link back to your site as part of your byline or guest post. If not, you can at least get a mention of your brand or blog name, so that interested readers can visit your site and see what you have to offer.
A modern-day PR hack, guest blogging has become a critical aspect of inbound marketing and is definitely worth considering as part of your content marketing strategy.
4. Inbound Marketing Can't Ignore SEO
We've talked about the importance of SEO before, so we won't lay the groundwork all over again. Suffice it to say that in 2018, technical SEO simply can't be ignored.
There's on page SEO, off page SEO and technical SEO. On and off page SEO are most commonly discussed in marketing circles; technical SEO is the most often overlooked, perhaps because it really does require technical or web development expertise to execute correctly.
Some elements of technical SEO include:
Indexing

 — make sure all your pages are being indexed by Google

Crawling

— ensure your CSS and Javascript resources are able to be crawled by Google (and other search engines') bots

Broken links

— they drag down your SERP rankability; fixing them helps

Sitemap — make sure your sitemap is current and registered with Google's Search Console
Page speed

—

 we've talked at length about it before; the faster it is, the better user experience you deliver

Responsiveness

— as with the above, making sure your website can be read on all types (and sizes) of devices, especially on mobile, is paramount to being found
If you hired an expert to perform an SEO audit on your website, these are the kinds of things that report would address. All of these items impact your ability to show up in search results, which is the primary way new traffic is going to come to your site.
In short, if you want to be found online, get your technical SEO in line.
If You're Feeling Overwhelmed…
Don't panic. This is a lot to take in. Keeping up with the new rules of inbound marketing as well as all the latest marketing trends is tough. Especially when your primary job is running your business.
The pros at OBI Creative know why inbound marketing works and are here to help. 
Trust our talented team of web experts to create, monitor, tweak and amplify content that converts for your brand.
Contact us today to start a discussion about your needs.
---